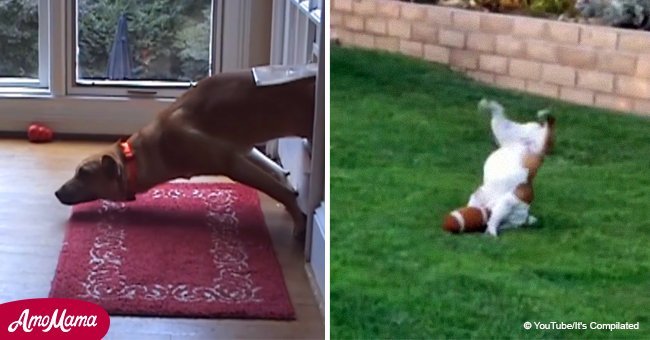 Sometimes dogs just fail at being dogs

Man's best friends can also be the best comedians
What makes dogs so endearing is their almost human ability to communicate their joy, their sadness, and their love.
They are also excitable, impulsive and that makes for a disastrous combination. Their bouncy attitude to life can often end in regrettable decisions and hilarious fails.
The advent of the smartphone and the Internet has made it easy to capture and share those funny fails dogs to which dogs seem to be prone.
Doggy fails are so popular that one particularly amusing video on Youtube has garnered over 30.000.000 views.
Canine comedians blow up the Internet
This particular video is titled "Dogs Who Fail At Being Dogs" and has been commented on by more than 20.000 dog lovers who can't get enough of the canine comedians.
Every captured incident is hilarious, from the dog who begs a statue to play fetch with him, to pups who can't play fetch at all, and canines who can't get downstairs.
Read more funny dog stories on our Twitter account @amomama_usa.
A rescue dog shows a remarkable love for life
One pup who has become famous for failing spectacularly is a rescue dog called Kratu.
Kratu showed his moves to surprising results
Kratu was saved from an abusive home and adopted by Tessa Eagle Swan, who was determined that his sad past would not prevent him from having a happy, playful life.
Kratu became a service dog and showed his owner enrolled him in competition at a dog show's agility run for rescue pets.
Canine champion klutz
Kratu gave an outstanding performance: outstandingly bad, proving that he was the canine champion at failing.
The video of his run has gone viral, and Kratu the rescue dog has become an Internet celebrity.
Please fill in your e-mail so we can share with you our top stories!