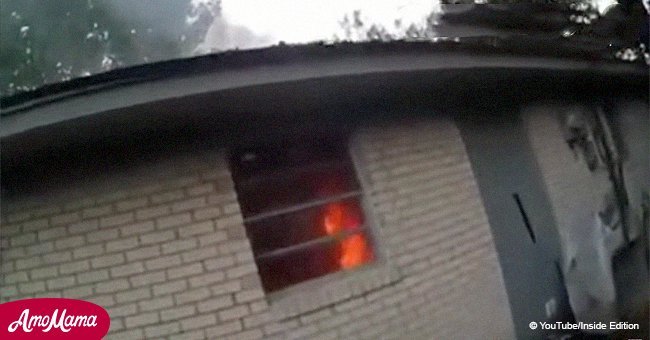 Woman can thank her lucky stars for being saved from a house fire in dramatic bodycam video
A 39-year-old woman was trapped in her own home while a fire started blazing. She called 911 for help and police were the first to respond.
In a YouTube video from Inside Edition, the Georgian woman made a frantic call to 911 on which she quickly blurted out her address after requesting for the Fire Department.
Soon, three policemen arrived on the scene and opened the front door. They were barely able to see anything due to the high level of smoke in the house.
Follow us on Twitter for more @amomama_usa.
In the dashcam footage, police called out but heard nothing back at first. After trying again, they discerned the voice of the lady from the side of her home.
When they went over, they saw her unsuccessfully attempting to climb through and assisted her out.
Soon after, more flames can be observed in the woman's home. It appeared she had gotten away just in time.
The police department released a message of appreciation along with the dramatic footage on Friday. The message said: "We are certainly proud of these officers!"
Back in early June, a much larger fire occurred at the Mandarin Oriental Hotel in Knightsbridge. It took 20 fire engines and 120 officers and firefighters to put out the devastating fire.
Singer Robbie Williams was among those who evacuated the building. He was captured on camera and the video later posted to Instagram.
The 44-year-old wore a black tracksuit which read 'Unicef ITV' on the back. He ran down the external fire escape along with many others to escape the blaze.
Another celebrity, Holly Valance, was also present at the scene. The Australian actress shared her own footage of the building as it stood in flames.
The situation was made worse for management as they had just refurbished the hotel. The multi-million dollar project reportedly took about 18 months to complete.
Please fill in your e-mail so we can share with you our top stories!