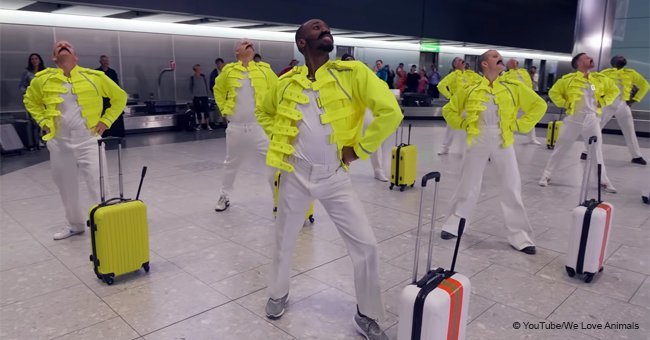 Airport crew commemorate Freddie Mercury with amazing dance routine

Before Freddie Mercury became one of the most popular musicians in the history of rock with the band Queen, he worked as a baggage handler at Heathrow Airport.
As a way to honor their late co-worker on what would have been his 72nd birthday, a couple of members of the staff performed and dance Queen's 1984 hit song "I Want to Break Free." The video went viral in no time.
When the clip started, a baggage handler explained that they had been working very hard for two weeks in their choreography and that they couldn't wait to do it.
Later, nine workers at the Heathrow airport appeared standing in the baggage claim area wearing white pants and shirts, as well as a bright yellow jacket similar to the ones Freddie wore for his concerts.
The ones in the front row had white and red luggage while those behind them got yellow ones. The music began, and they started lip-synching and dancing in front of the people who were in the airport at that moment.
Little by little, people started gathering around and using their phones to record them dancing in what would be labeled as a piece of Freddie Mercury's history.
Another interesting aspect that they added to their outfit was a thick black prop mustache very similar to the one that the late singer wore most of his life.
Huffington Post reported that any customer called Freddie, Frederick, or Farrokh (the singer's real name) who was departing from Terminal 5 that was days invited along with their traveling companions to use British Airways' First lounge.
After that, they went to a different area of the airport and showed off their dance skills again. When the clip ended, it was revealed that such authentic initiative is part of the film's "Bohemian Rhapsody" promotion process.
The movie, which is expected to be released on October 24 in the United Kingdom and on November 2 in the United States, has Rami Malek as the principal star.
Please fill in your e-mail so we can share with you our top stories!