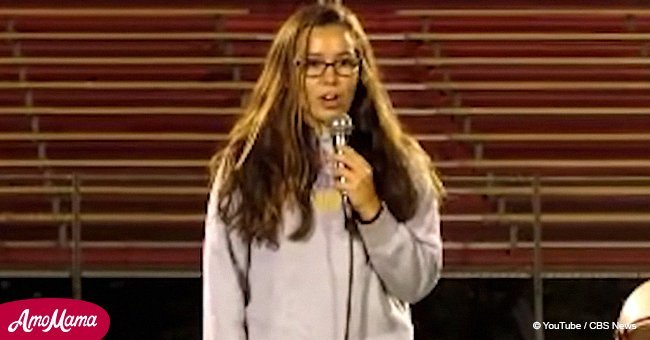 Heartbreaking video shows Mollie Tibbetts speaking about faith 2 years before her death
An old video of the missing Iowa college student, Mollie Tibbetts, talking about the power of prayer has surfaced online.
On August 1, 2018, Tibbetts' aunt, Billie Jo Calderwood, posted the raw video from 2016 on Facebook as searches for the 20-year-old student continue, as reported by CBS News.
Tibbetts has been missing since July 18, 2018, from Brooklyn, Iowa. She disappeared after going for a run and dog sitting at home.
Calderwood wrote: "Thank you …for remembering this event and finding the tape of it, and for sharing it with us! Please keep praying!"
Follow us on our Twitter account @amomama_usa to learn more.
In the heartbreaking footage, Tibbetts can be seen talking at her high school about her trust in God during a faith event.
She explained how her faith in God helped calm her nerves before an important track meet.
"I'm nowhere close to where I was the year before. I had no idea what to do. I was so scared. For the first time in my life, I prayed before but I had never gotten down on my knees and prayed to God," Tibbetts can be heard saying in the clip.
She added that she got down on her knees to pray for the first time.
"So I did. I got down, and I prayed, and I asked God to give me the strength to get through it, to tell me what to do, to help me out with whatever happened and to know what his plan was."
Tibbetts went on to say that during the race, God was on her mind the entire time.
"The whole time I kept thinking about God. He was on my mind the whole time. And I was breathing like I had been the whole season," she said.
According to her, she ended up getting her best time of the season so far.
"In that moment I knew that was God's way of showing me. The power of prayer was really something," Tibbetts said. "…I had doubted him."
She said that seeing God working in her life really meant a lot to her.
"He's worked in your life and used you and made you stronger through these obstacles," said Tibbetts.
Her father, Rob Tibbetts, told Fox News that it's "logical" his daughter is with someone and begged whoever that person is to give her up.
Please fill in your e-mail so we can share with you our top stories!