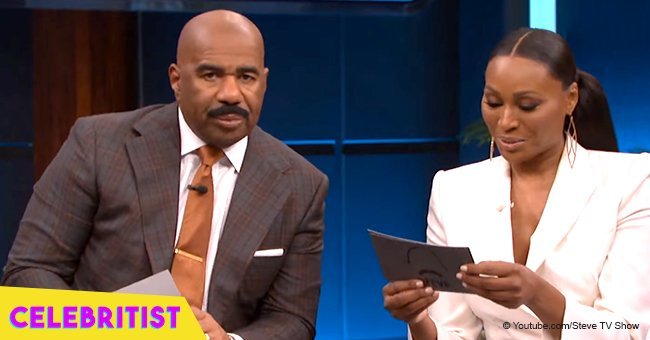 Steve Harvey takes credit for for Cynthia Bailey's newfound love with ESPN sports anchor

Steve Harvey is happy for his friend Cynthia Bailey who recently found love again after a troublesome relationship. Now, he wants to let everyone know that he served as cupid in her newfound relationship with a Fox News sports anchor.
After her relationship with beau Will Jones fell apart, Cynthia Bailey appeared on the "Steve Harvey Show" to try and get the TV host's help to find the right guy for her. Steve then helped her by screening three eligible bachelors within her age group, she ended up choosing Mike Hill, a sportscaster for Fox Sports 1.
The 51-year-old and her new beau have been working things out well so far, even combining their names on social media with a hashtag "#CHill". Due to the success of their relationship, Steve Harvey wants to somehow give himself a pat on the back for making it happen.
In a recent interview that he had with Entertainment Tonight to promote the new season of his talk show, Harvey said that there would definitely be more matchmaking since he thinks he's quite good at it. He shared the situation that happened when Bailey joined his show, saying that she intended to choose someone else. However, he encouraged the actress to give Hill a chance, and so far it's been good for the both of them.
"Cynthia Bailey was going to pick somebody else. You're not picking that guy. You're going to pick this guy.'"
At first, she was pretty hesitant because it seemed it would be impossible to have a long distance relationship since he lived in Atlanta and worked as an attorney.
"'Well Steve, he lives in Atlanta, he's an attorney' — I don't care nothing about that. I talked her into it, they started dating. So now it's pretty serious. They're exclusive and so she's found somebody that she's crazy about."
Now, it turns out Cynthia really is crazy about her new man, Mike Hill. They're actually so serious, that they've been going on double dates with some of Bailey's closest friends, NeNe and Gregg. The two looked happy beside one another as they smiled alongside their good friends.
"Makeup free date nite wit @greggleakes @cynthiabailey10@itsmikehill #nomakeup #westillcute#50andfabulous"
All the best to the happy couple!
Please fill in your e-mail so we can share with you our top stories!