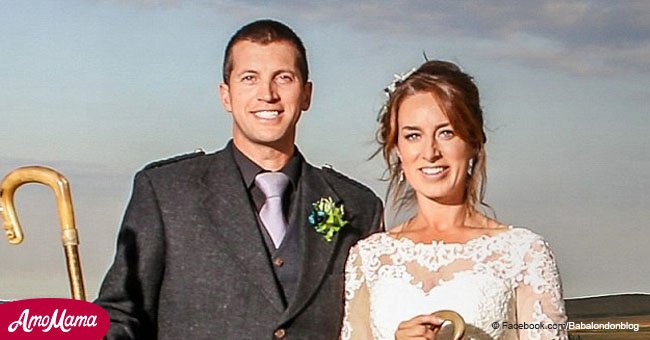 'Lonely' 32-year-old shepherdess marries handsome fireman in front of her flock

Couple celebrate a fairytale wedding with "sheepish" guests
Emma Gray, 32, married Ewan Irvine, 40, at Kelso Town House. All weddings are extraordinary to the principals, but this one was exceptional by any standard.
What made it so unusual was that the bride insisted on inviting her "workmates." That is quite normal...unless you are a shepherdess, like Gray, and you work with sheep.
Grey and Irvine, a fireman, held the reception at her parent's farm in Hawick in Roxburghshire, Scotland, and among the guests were the sheepdogs and sheep, reported DailyMail.
Bo Peep and her trusty sheep
Gray first came to the public's attention at 23, when she became Britain's youngest solo shepherdess.
Gray had been running the National Trust's 150-acre Fallowlees in Northumberland with her fiancee, and when the relationship ended, she took on the challenge alone.
Read more human interest stories on our Twitter account @amomama_usa
The book-writing shepherdess
In 2012, she published a book "One Girl And Her Dogs: Life, Love, and Lambing in the Middle of Nowhere" detailing her life as a shepherdess dealing with her work and the challenges of her lonely isolated life.
The book was a bestseller and boosted Gray into the limelight as a prominent author.
Champion shepherdess takes the prize
Gray began working with sheepdogs dogs at the age of 13, and by 17 she knew she wanted to work with sheep and went on to study sheep management at college.
At 27 she became the first woman to win Northumberland Sheepdog Trials in the League's 40-year history.
Sheepdog Honeymoon
In 2016 Gray gave an interview revealing that she was looking for love, and encouraged suitable men to contact her.
Luckily she met Irvine, a rugged firefighter who doesn't mind that his bride's home on Fallowlees Farm has no mains electricity or gas supply and uses a windmill-powered hot water system.
For their honeymoon, the couple will be attending an international sheepdog show in which the bride will be competing.
Please fill in your e-mail so we can share with you our top stories!