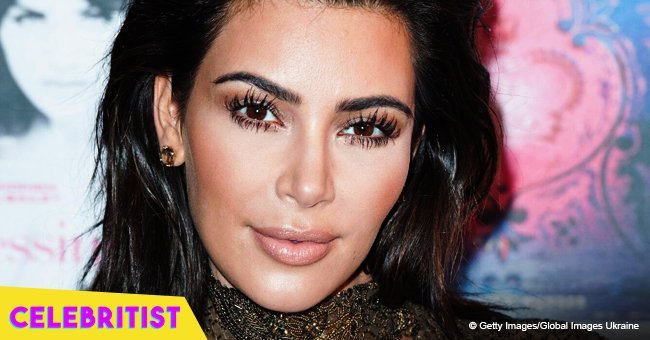 Kim Kardashian melts hearts with photo of son Saint, 2, playing on the beach in swim trunks
Kim Kardashian's son, Saint, has mastered the art of stealing hearts. When he's not fawning over his younger sister, Chicago, he's getting playful on the beach, as in the new photo his mom shared recently.
Saint, 2, was pictured shirtless in a pair of black swimming shorts. He looked content as he shuffled his feet in the sand. The sand particles on his hands suggest the son of Kim and Kanye West might have been building a sandcastle. His curly hair was styled as neat cornrows.
Saint's mother, probably overwhelmed at how gorgeous her son looked, left an "OMG" caption punctuated with blue hearts.
Meanwhile, in a recent post for her website, Kim set the record straight with a couple of media reports read to her by her friend, Steph Shep.
THE TRUTH ABOUT KANYE WEST AND KRIS JENNER'S RELATIONSHIP
One headline read, "Kanye West has explosive fights with Kris Jenner and Kim Kardashian can't control him," and Kim reacted:
"No one is trying to control anybody, no one is fighting. All of this stuff is ridiculous. They always want this Kris Jenner, Kanye beef."
Shep confirmed Kim's stand, adding:
"Everytime I see them, there are hugs and she is so much over love for each other!"
THE ONE THING NOBODY KNEW ABOUT KIM'S BLUE HAIR
When Shep read a headline that announced Kim's debut of a blue hair for the latest Yeezy shoot, Kim made an interesting revelation. The reality star explained:
"What is so crazy, my hair was not blue. It was long and wavy hair. I was wearing a greyish blue outfit. The flash off of it looks like a navy blue hair. It looks cool. Kris said don't tell anybody, let's roll with it, let everything think it's a blue hairstyle."
REALITY STAR-TURNED-POLITICIAN?
Shep read another headline that said Kim was open to the idea of running for political office and the KKW beauty mogul was quick to shut it down. She said:
"Honestly, I don't even want to go there. I feel like it is the hardest job in the world, I don't know much about politics."
Kim may not be interested in politics, but she's passionate about criminal justice reforms. The mother-of-three returned to the white house earlier this week as part of her campaign.
Three months after securing the release of a convicted drug dealer, Alice Marie Johnson, she has revealed plans to lobby for Chris Young who was sentenced to life imprisonment after being arrested for marijuana and cocaine possession.
Please fill in your e-mail so we can share with you our top stories!