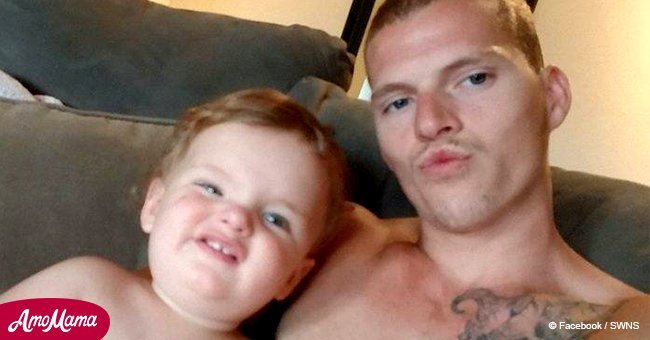 Heartwarming moment devoted dad gets son's surgery scar tattooed on his head
For some this father can be "Father of the Year" because he really has earned a name for himself. The love of a parent is unconditional and proof of that comes from the actions of Drake Britt. Drake got an identical replica of his son's surgery scar tattoed to help his son so that when he grows up he will be more confident.
For this kindhearted dad from British Columbia, Canada, getting an identical replica of his one-year-old son's surgery scar tattoed on his head would always be worth it. His son, one-year-old Damian had an emergency surgery done in order to remove a cyst from the right side of his brain.
The intensive neurological procedure was performed after the infant was rushed to hospital via air ambulance. The operation was a complete success and Damian's good health has been restored. He was however left with a prominent scar across the top of his head.
Drake hopes the tattoo will help Damian wear his scar with confidence and pride as he grows older.
"What if anyone ever picks on him or tries to make fun of him in school? I don't want him to have to worry about anything. I'm hoping that he's going to be excited that I have the scar too, and won't be self-conscious."
Drake Britt, SWNSNews.com, August 24, 2018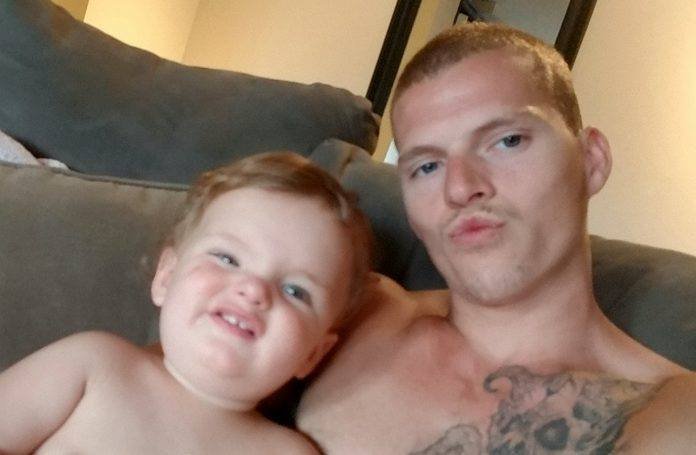 Source: SNSWNews, Facebook
In March 2018 the family's ordeal began when Damian was sitting on his dad's lap watching TV. It was then that Drake noticed that one side of Damian's head was bigger than the other and the tot was taken to the hospital. X-rays revealed that there was a cyst the size of a tennis ball on the right side of his head.
At this stage he was airlifted to the Vancouver Children's Hospital for surgery to remove the growth. Although the surgery was a success Damian spent 24 hours on life support.
"Finally, in the middle of the night, he started breathing on his own. It was the biggest relief ever."
Drake Britt, SWNSNews.com, August 24, 2018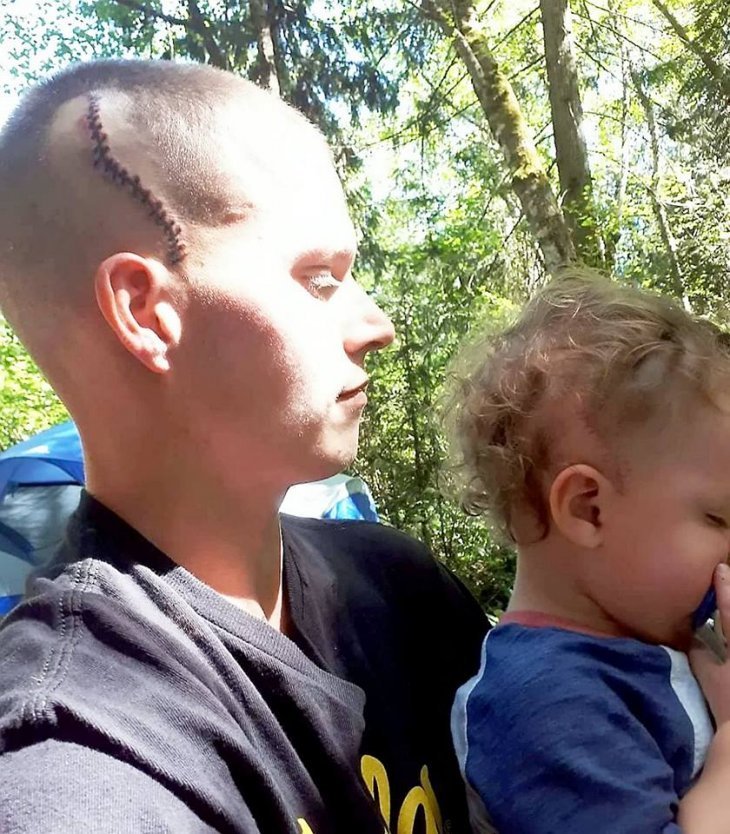 Source: SWNSNews, Facebook
After four days Damian was discharged but the bone in his skull took three months to heal.
In early May when the entire family was on a nearby camping trip, Damian who has three other tattoos snuck out to the parlor to get inked. Damian's mom, Emily cried when she saw it.
"Out of all my tattoos, it definitely means the most to me."
Drake Britt, SWNSNews.com, August 24, 2018
Please fill in your e-mail so we can share with you our top stories!