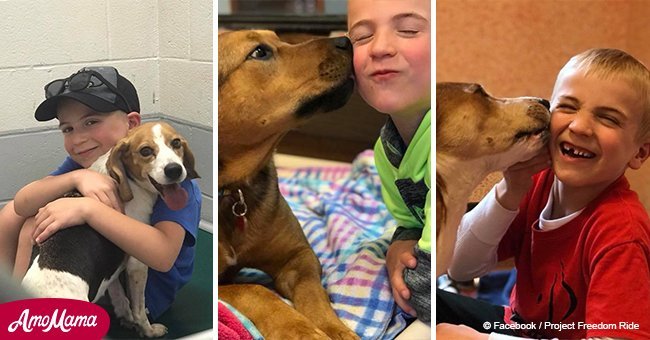 7-year-old establishes an 'Underground Railroad' that saves 1000s of dogs from a harrowing fate

A little boy devotes his energy to saving dogs from certain death. Roman McConn, 7, has been a dedicated activist for saving animals in kill shelters since he was 4.
Roman first learned about kill shelters when he and his mother adopted a rescue dog from one of these institutions in 2015, while they were living in Texas.
His mother, Jennifer McConnonly, shared that Roman decided to trade his 4th birthday presents for money to help save dogs from kill shelters.
Read more about dog rescue on our Twitter account @amomama_usa.
The two decided to create a project to save more animals, and they shared their story on Facebook.
"Roman opted to forgo birthday gifts on his fourth birthday and get money to help a rescue that he had seen on a pretty regular basis."
Jennifer McConn, Inside Edition, 16th of July 2018.
McConn, 36, started volunteering at local shelters and making videos of the dogs with Roman's help, in order to find the animals adoptive families.
The McConns relocated to Washington state and decided to continue their mission to save animals being held in Texas shelters, waiting to be euthanized.
Kill shelters euthanize the animals if the institution becomes overcrowded or after the dog (or cat) has been in the shelter a certain amount of time without being adopted.
TRAVELING FROM STATE TO STATE FOR A NEW LIFE
The McConn's Project Freedom Ride is a program that brings together unwanted and abandoned dogs from Texas with loving families in Washington, thus saving them from certain death.
By December 2016, the Project had brought 31 dogs from Texas to Washington, and have been rescuing an average of 50 dogs a month since then.
MEETING THEIR FOREVER FAMILIES
For the McConns, watching the meeting between a dog and its adoptive family is wrought with raw emotion.
The families have already seen the dog on video, and have created an emotional connection to the animal, which is then materialized at the first meeting.
2,000 DOGS SAVED FROM CERTAIN DEATH
The dogs travel 2,000 miles to their new homes, and up until now, the Project has placed over 2,000 dogs that would otherwise have been killed.
Roman confessed that he loved finding the pups forever homes, but he knew that he was making the dogs and their new owners happy too.
The McConns will be taking their "underground railway" to yet another state. The family has moved to Augusta, Georgia, and they will be continuing with their mission.
Every year approximately 7.6 million pets are taken into animal shelters in the USA. These consist of 3.9 million dogs and 3.4 million cats. 2.7 million of these animals do not find homes and are euthanized.
Please fill in your e-mail so we can share with you our top stories!