LeAnn Rimes' performance of Patsy Cline's classic is so good that it bewitched fans
LeeAnn Rimes made history at the 2013's edition of the American Country Awards, and not by receiving an award but because of her unforgettable tribute to one of country music biggest legends.
The audience at the Mandalay Bay Resort & Casino in Las Vegas on December 10 were privileged to attend one of the most remarkable nights for country music, as LeeAnn Rimes gave one of her best performances, as Today reported.
36-year-old Rimes was left in tears after her amazing rendition of a medley of songs by the iconic Patsy Cline, who left a void in the country music world with her shocking death at age 30 in 1963.
Rimes, who first rose to fame in 1996 when she was still a teenager, reminded the public what she is made of and secured her place in country music history as she sang hits like "Crazy" and "Leavin' on Your Mind."
A video of LeAnn Rimes singing Cline's songs on the AMA stage was shared on YouTube on December 12, 2013. Read more on our Twitter account @amomama_usa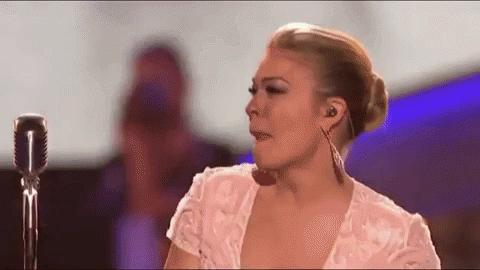 LeAnn made the audience travel back in time
"Tonight, we want to remember Patsy with the help of a beautiful young woman who began her own remarkable career being called 'the next Patsy Cline'. Here to raise her own great voice to honor Patsy. That said, this is the amazing LeAnn Rimes."
-Luke Bryan, YouTube, December 12, 2013.
Rimes wore a long sequined dress as she took the stage, which had a huge portrait of Cline as a background. The black and white filter and vintage microphone sent the viewers back in time to Cline's days.
Reactions to the performance
After the video of Rimes's performance of Cline's songs was uploaded to YouTube, country music fans had the opportunity to share their thoughts about the magical night.
"No one can sing better than Leann. She probably has the best voice in the business. All genres," wrote user "Uncle Go-rilla." "Few can pull off Patsy Cline songs. LeAnn Rimes can," added "jerlan23."
Singer Trace Adkins, the awards ceremony co-host for that night, also expressed his positive impression with Rimes's performance.
"I just want to say it takes one great singer to take a Patsy Cline song and LeAnn Rimes just reminded us she is one great singer. I take my hat off to her," he said.
More recent news about LeAnn Rimes
Early in June 2018, Rimes performed at The Abby Hotel in West Hollywood, California, donning a sexy and glamorous look as she marked the beginning of the Gay Pride Month. She stunned the audience with her talent and slim figure.
In May 2018 Rimes showed signs that she might finally be ready to end a feud of years with "Real Housewives of Beverly Hills" star Brandi Glanville, with the two posing for a selfie together.
Rimes is married to Eddie Cibrian, who is Glanville's ex-husband. Glanville and Cibrian's marriage ended abruptly when the latter's affair with the "How Do I Live" singer in 2009 went public. Now, the two seem to have finally buried the hatchet.