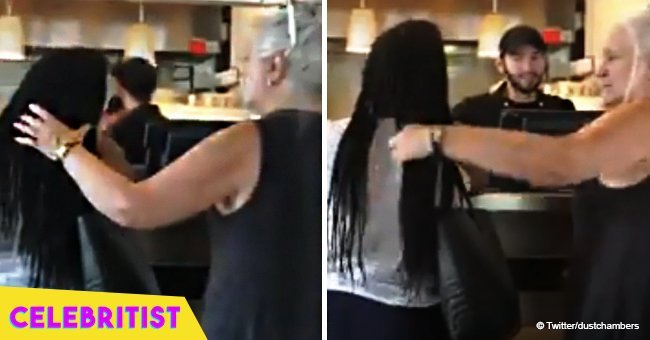 Black woman's reaction goes viral after confronting white woman who repeatedly played with her hair
A black woman's reaction to another woman touching her hair without permission has gone viral on social media.
While some people might think it's okay to touch someone else's hair without permission, there are also some that are very particular with their boundaries. That's exactly what happened to a black woman with long braided hair, who was trying to peacefully order something at a fast food restaurant.
However, a white woman has decided that her hair was too interesting not to touch, and decided to continuously play with the braids despite the other woman looking particularly bothered.
Freelance photographer Dustin Chambers was lining up with the two women until he saw the weird situation happening. Because of the way the white woman was playing with her hair, Dustin actually thought that the two ladies were friends as she looked comfortable doing what she was doing. However, it turns out that they didn't know each other since the woman with the braided hair ended up confronting the person touching her hair.
Props to the patient customer, she tried her best not to say anything as she let the woman behind her stroke her hair repeatedly. However, once she's had enough, she decided to finally say something, but she managed to say it in the calmest way possible, keeping her facial expressions and demeanor in check.
Although the video didn't capture what exactly she said, Chambers did the rest of the internet the honors by updating them of what had happened.
As she turned back, she apparently said:
"I'm being very friendly today, but please don't touch my hair."
After the video was posted online and has garnered more than 27 thousand retweets, 60 thousand likes, and 3 thousand comments, people started to note how what the white woman was doing was an act of passive racism against the black woman. Aside from these, some women have also shared similar experiences they've had, wherein white women would touch black women's hair without permission.
Overall, the anonymous woman was commended for her composure, saying that while she handled the situation well, she shouldn't have to as what the white woman did was extremely impolite.
Please fill in your e-mail so we can share with you our top stories!