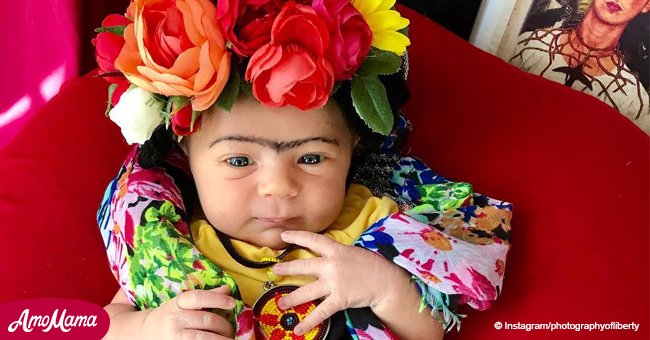 3-month-old baby dressed up as the world's most famous women
This mother has found a fun and creative hobby, that also helps to educate people through her social media page with her photos.
Jenelle Wexler came up with an interesting idea when her daughter Liberty was just three weeks old. She wanted to dress the newborn baby up as Frida Kahlo, one of her favorite artists
So she started planning what she would need in order to do so, sewing a tiny little costume for Liberty and even going so far as to make a wig with flowers in it for the tot.
When Wexler was done, she snapped a gorgeous photo of her little girl in the outfit and shared it to Instagram with a bio on Kahlo.
From there, the idea blossomed, and Wexler decided she wasn't ready to stop dressing her daughter up. She wanted to pay homage to other great women throughout history, and started making a list of all the lovely ladies she could dress Liberty as.
"I just kept thinking of all different influential women that I wanted to dress her up as," Wexler, 36, from McHenry, Illinois, told People. "There were so many I could have her portray and help tell their stories."
In total, her daughter had 20 different costumes by the beginning of August, although not all of them had been posted to the social media site at that stage.
Before Wexler does anything else after remembering another prominent woman to include, she first does her research on the woman, creates a bio, and then only plans her daughter's costume.
Wexler is a hair stylist by trade, but is gifted with a needle and thread as well. Her biggest challenge is finding the time to make her daughter's creations, as she is, of course, busy caring for Liberty and her son, 2-year-old River Holden.
"I try to make as much as I can during nap time or when the kids go to bed," she said. "Then, it's usually ready first thing in the morning that I take the photos of her."
Fortunately for the busy mom, Liberty is completely relaxed and at ease being the object of her mother's photography hobby.
With all the photos Wexler has already shared, her tot has gotten plenty of attention over social media of late, and plenty of fans have come forward with their own suggestions as to another woman Liberty should portray.
But fans don't only love it because the smiling baby girl is too cute for words. A number of women have told Wexler that her little photoshoots and bios have actually taught them things they didn't know.
"It's really awesome to know that something that's just a hobby of mine is bringing a lot of people joy," Wexler said. "But I'm having a lot of other people say, 'I'm learning. You're teaching me something. I just learned something today,' and that, for me, is really neat."
Please fill in your e-mail so we can share with you our top stories!