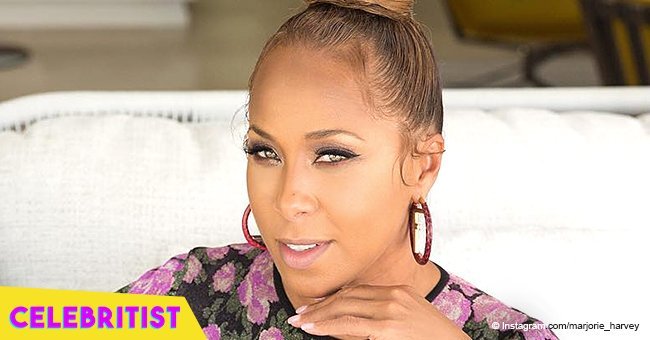 Marjorie Harvey holds her newborn grandson in her arms in heart-melting picture

Marjorie Harvey proudly shared a photo of her newborn grandchild, giving the world a glimpse of their newest bundle of joy.
Steve and Marjorie welcomed their fifth grandchild into the world, and it was such a precious moment for the grandparents that they both felt the need to share the special moments with their fans.
While Marjorie went straight to Instagram to share a photo of herself sharing a peaceful moment with the little boy, Steve first announced it on his talk show "Steve". According to him, they have a little Harvey yet again.
"Got another little Harvey walking on this planet, baby. His name is Ezra. Ezra Harvey. My son named all of his sons — Noah and Ezra — biblical names. "I said, 'Why didn't you name him after you?' He said, 'They don't need to be like me, Dad.'"
Although their newborn baby boy Ezra might not walk until the next few months, everyone gets his idea: that they've just welcomed another family member into the world.
Marjorie announced that her son-in-law Jason and his wife Amanda were welcoming their third child last April, and now that he is born, she couldn't be any happier.
"Our family is growing… Jason and Amanda are preparing to welcome a new baby in September."
Indeed, Ezra's arrival came in the first half of September, and he joins older siblings Noah and Rose, and his cousins Elle and BJ, who recently got the opportunity to go on vacation with their grandparents.
Sharing how sweet their grandchildren are to them, Steve shared a photo of Rose and Elle approaching a tarpaulin with the couple's faces on them, and the two leaned in for a hug. The lovely family also recently vacationed in a luxury resort in the Dominican Republic, and the little kids played mini golf with their grandmother.
It won't be long until Ezra gets to join in on the Harvey family fun, especially since their tight-knit clan always has activities, parties, and vacations up their sleeve.
Please fill in your e-mail so we can share with you our top stories!