Viral video shows student surprising school janitor who couldn't afford his dream sneakers
A Stafford County Virginia student formed a bond with a school janitor and surprised him with his dream sneakers after finding out he couldn't get one for himself. 
It's not every day you see a friendship brewing between a student and a school janitor, but Tristan McAlister made sure not to let this stereotype get in the way of his friendship with Angel Echevarria. 
Echevarria is a custodian at Stafford High School where McAlister is currently in his last year. According to an interview that the custodian had with NBC Washington, he is used to being overlooked by other students. 
"It's normally mean mugs and shoulder shrugs where I come from."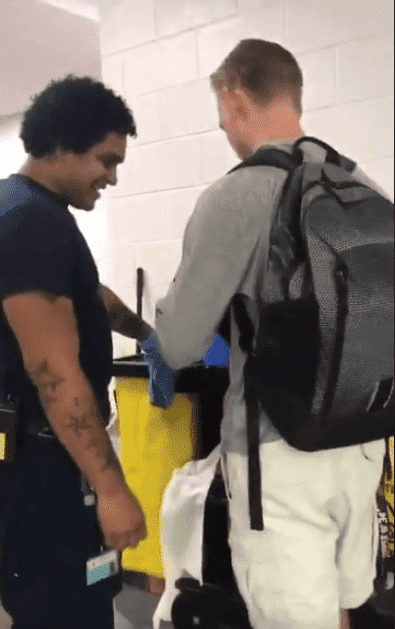 However, there was one particular student who always made time to greet Echevarria, even having some meaningful conversations with him along the way.
After making an effort to get to know him, senior Tristan McAlister said that Angel's one of the nicest people he knows. 
"Angel's one of those people that was always smiling, saying 'God bless. Have a good day.'"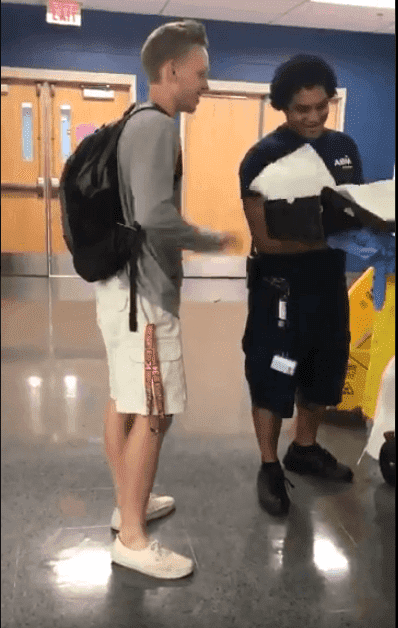 It hasn't always been good for Echevarria, who was homeless for four years before getting a job at the school. But he remains positive despite all the hardships of his past. 
Angel and Tristan formed a friendship two years ago when they realized that they had some things in common. Since then, they have talked every time they bumped into each other and started a connection by talking about sports and shoes.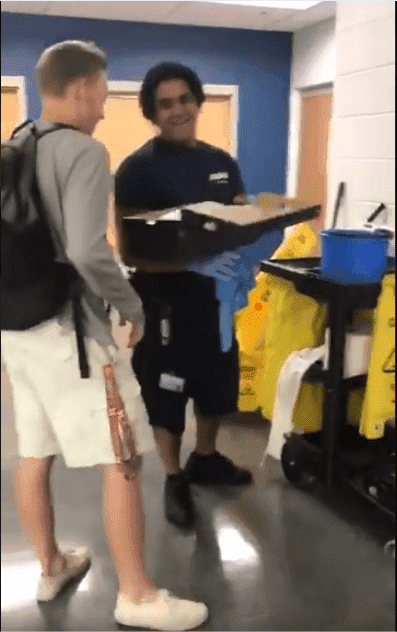 Recently, McAlister decided to ask Echevarria what type of shoes he should buy for himself. He suggested a pair of Jordan 8s. When the student asked if he had a pair, he said he had none. 
Love this story- a step in the right direction for both. Watch on @Radiodotcom @_TMac18_ https://t.co/6xDwh58vvM

— Meredith Ganzman (@MGanzman) September 12, 2018
"And he said, 'You should buy the Jordan 8s.' I said, 'Oh really? Do you have a pair?' He said, 'No I got four kids. I can't shop for myself.'" 
After finding out about this, Tristan decided to surprise his good friend with a gift: his own pair of Jordan 8s. 
"Just to be able to know that he would be able to bless me with what he did was just amazing. It truly touched my heart."
The senior's gesture was filmed by one of his classmates and has now gone viral on social media. However, the video was actually for Tristan's mom who wanted to see Angel's reaction after her son gave him the shoes they bought for him. 
Indeed, the custodian's reaction was priceless, and he was just so thankful to have been given the opportunity to own a pair of his dream shoes.