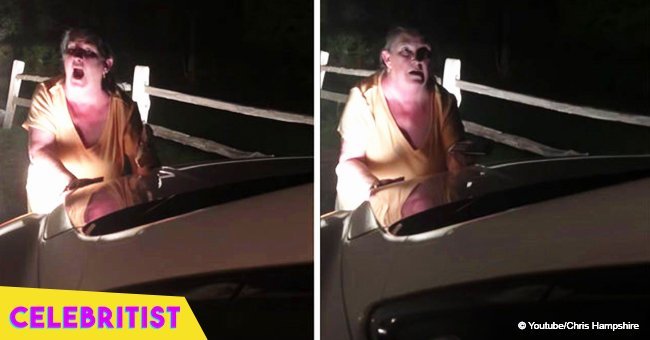 Texas park employee fired after viral video shows her screaming at visitor during 911 call

A hysterical female park employee is caught lying on video as she screams at a visitor and accuses him of running her over while on a 911 call.
A Texas park employee was caught on video lying about being "run over" by a driver and has now been fired.
Chris Hampshire, the driver the woman Judine Reed accused of running over her uploaded a video of the incident. In the clip, the woman is seen yelling on her phone and telling a 911 operator "he's running me over." The strange thing about the whole thing was that the vehicle wasn't even moving and Hampshire wasn't even in his car and was recording the whole thing.
WHAT TRANSPIRED IN THE VIDEO
The incident occurred on August 25 at around 8:47 pm. In the 2-minute clip that has now gone viral, Reed could be seen shouting "he's a lunatic and he's videotaping me" then repeatedly calling for a person named "Mike" for help.
She also told Hampshire "you're in serious trouble, you're going to jail" while pretending she had been run over to the 911 operator. She tells the person on the other end of the line, "please hurry" and "he's still moving," despite Hampshire innocently standing by with his car immobile.
When police finally arrived in the scene Hampshire returned to his car saying "I have done nothing wrong" as the woman tried to get him arrested.
WHAT STARTED IT ALL
Along with the video Hampshire posted on his YouTube account, he explained he was stopped by Reed after she witnessed him leaving the park lake with his Jetski and accidentally steering down he wrong exit.
"She saw me correct myself and I was about to leave the main exit point. At that point she started telling me she was calling the cops and I wasn't allowed to leave."
When Hampshire refused to be held, he said Reed jumped in front of his car and pulled out her phone. And the video below captures what happens next.
WHAT HAPPENED AFTER THE INCIDENT
As Hampshire drove off after the cops arrived, he spotted police with sirens pass him. They probably thought someone was actually run over. Some of the officers turned around to pull him over to question him. After Hampshire showed the video, he was released.
Meanwhile, Reed's contract with the US Army Corps was no longer renewed after the incident. No assault charges were also made seeing she did not incur any bruises nor were there any damages on Hampshire's vehicle.
In a statement on its website, the Forth Worth District of the Us Army Corps of Engineers who operated the park wrote,
"We neither condone nor support this sort of behavior by our employees or contractors.The incident occurred on August 25 and the gate attendant is no longer at the park or providing contracted gate attendant duties at any of our lakes. Our goal is to offer a pleasant and safe recreation experience for all our guests."
The incident clearly shows how a video becomes instrumental in determining the truth of a situation. This is also what happened in 2017 when a woman, Katherine Torres, accused an officer of racial profiling her at a traffic stop. The Wisconsin native filed a complaint saying the police officer pulled her over and asked for her social security card and citizenship status as well as her license and insurance. However, upon viewing the video evidence, it was clear Torres was lying. The police officer had only requested for her social security but not her citizenship status. As a result, she withdrew her complaint.
Please fill in your e-mail so we can share with you our top stories!