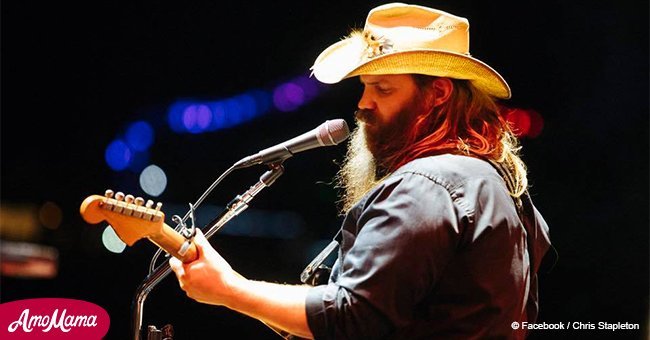 Chris Stapleton sings Luke Bryan's hit song and it's on an absolutely different level
Chris Stapleton impresses all the country music fans with his rendition of Luke Bryan's hit song, "Drink A Beer," which was originally written by him.
Ever since it debuted in 2013, Bryan's "Drink A Beer" has been a fan-favorite and has won the hearts of many. Now, the person who originally wrote it, Stapleton, takes the song to a whole new level with his cover.
Stapleton's rendition of the song, uploaded to YouTube, presents the powerful ballad in the soulful voice of the singer. Since its upload, it has been adored by the music lovers on the internet. The video has received over 9 million views so far and more than 20,000 likes.
Many people have taken the time to talk about their feeling toward the song in the comments section. One YouTube user wrote that 'Chris Stapleton is the best thing to happen in a very long time.'
Follow us on Twitter to learn more.
Another user Vanu Pilimai wrote, 'This is how this song was meant to be sung, and it makes even more sense when you hear that Chris wrote it.'
According to Country Music Family, Bryan also performed the song on its debut year during the CMA Awards and dedicated the powerful country ballad to his late brother and sister, whom he had recently lost.
In 2016, Stapleton also joined Bryan on stage during a rare performance to sing this beloved country song. The audience did not expect the two stars to come together for such a significant moment and they absolutely fell in love with the duet.
Several fans have come forward to praise Stapleton's version of the song to be even better than the earlier versions. Stapleton, who co-wrote the song along with songwriter Jim Beavers, has undoubtedly poured his heart and soul into this performance.
Twitter user Zack Tucker tweeted that Stapleton singing "Drink A Beer" was 'something else,' and wrote, 'Can't describe it… it's too good.'
Stapleton is one of the most popular names in country music and he is being labeled as the man who is 'bringing the country back,' the online source informed.
Back in April this year, the country star took to social media to share adorable photographs of his baby twins with his wife, Morgane.
The twins were born on the same day the Academy of Country Music Awards was scheduled to take place and Stapleton could not attend the event, in which he even won the Album of The Year award.
Please fill in your e-mail so we can share with you our top stories!