Man started a serious fist-fight with a wild animal in order to protect his dog (video)
Greig Tonkins became an internet sensation when footage of him punching a kangaroo to save his dog Max has gone viral.
The video shows Tonkins, from Dubbo in country New South Wales, running toward a kangaroo, which has a dog in a headlock. The kangaroo then let go of the dog after he confronted it.
Then out of nowhere, Tonkins, who was an elephant keeper at the Taronga Western Plains Zoo in Australia, can be seen in the video punching the kangaroo in the face. The incident took place in 2016.
The father-of-two was publicly condemned online after his action went viral. Millions of people across the world have viewed the video since it was uploaded.
This man punches a kangaroo to save his dog https://t.co/fgG5ZLqL7M pic.twitter.com/lLr8rmw2ob

— CNN (@CNN) December 6, 2016
Follow us on our Twitter account @amomama_usa to learn more and scroll down to watch the video below.
A reporter from Australia's Channel 7 News, Emma Dallimore, told the Inside Edition that many people are outraged. They even called for Tonkins to lose his job at the zoo.
"The kangaroo is a national icon, it is a symbol of Australia, and the animal activists are certainly not happy at all about it," Dallimore said.
As reported by Daily Mail, People for Ethical Treatment of Animals (PETA) described Tonkins' act as "neither funny nor brave" and "illegal."
The viral clip was filmed when Tonkins went on the hunting trip to help his sick friend Kailem Barwick, who has since passed away, catch a 'tonner' – a wild boar.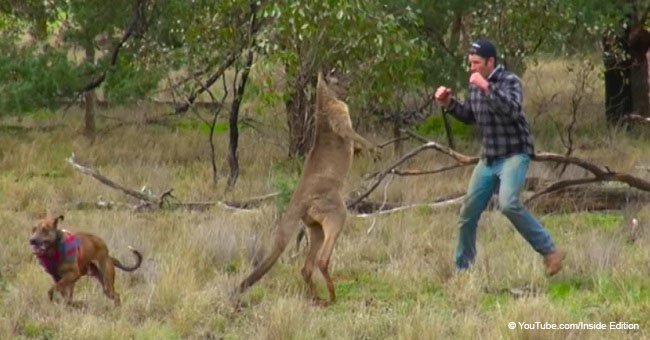 One of the men on the trip told Daily Mail Australia that the punch was only thrown to protect the dog and prevent the kangaroo from attacking anyone else.
"The dog wanted no part of it, all it was trying to do was escape from the roo, and that's why [Tonkins] stepped in," the man said.
"There's people on social media saying, 'I know men like that, I bet they killed it afterwards,' but that's just ridiculous."
He added: "He only threw the punch to redirect the animal and afterwards there were a few nervous and relieved laughs, and then we just went on with getting Kailem a tonner."
Another hunter said: "It made me sick to be part of this country when people were wishing this family man and dog died, when the kangaroo wasn't even hurt."
According to Daily Mail Australia, Tonkins is a committee member of the Australian Pig Doggers and Hunters Association.