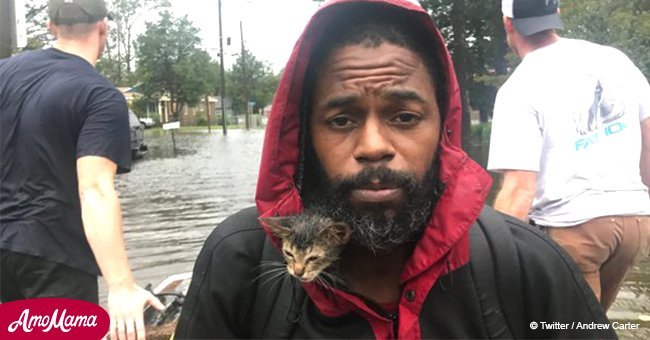 Photo of the kitten 'Survivor' sitting on his owner's shoulder quickly wins the Internet

Two refugees of Hurricane Florence have stolen hearts on the internet because one of them is a resilient feline furball.
Robert Simmons Jr. said his kitten's name is "Survivor." He sat in a boat as he was being rescued from his house where his father still remained.
Perched on his shoulder was his tiny brown and black kitten. The pair of them were soaked.
Follow us on Twitter for more @amomama_usa.
In the picture taken by Andrew Carter last Friday, Simmons' forehead is littered with frown lines as he looks disconcertedly in the distance.
The caption read:
"Meet Robert Simmons. Was stuck in his house since last night, when floodwaters began to rise in New Bern. A boat came and rescued him just now. He was sad to leave his father but left with his kitten hugging his neck."
Carter, who works as a reporter for North Carolina's News & Observer, was stunned by the reaction on Twitter. He said: "Means a lot to me it's touched so many."
Indeed, many commented about the dramatic photograph with words of incredulity and commendation. It gained over 11,000 retweets and 39,000 likes.
They also inquired about Simmons' father. Carter explained:
"For those wondering, Robert wanted his father to leave on the boat, too. But his father wanted to stay behind. There was probably about a half-mile of waist-deep water between their place and the street that led out of the neighbourhood."
In an interview conducted later with News & Observer, Simmons said that he is "an animal lover." According to the Huffington Post, he explained that the kitten's mother is a wildcat and so he was unable to take her along.
Carter also took a photo of the kitten as it was tucked in Simmons coat. Additionally, he prepared a video of the incident and other rescues that happened in New Bern.
By Saturday morning, Morehead City, North Carolina had received 23 inches of rain and was due to get lots more according to the National Weather Service.
Earlier in the week, another daring rescue occurred when Breenna Perry made a desperate plea to Twitter and Facebook in the early hours of 1:30 a.m. Friday night.
Perry, her disabled mother, and her grandmother were trapped in their attic thanks to flooding caused by Hurricane Florence.
When she sent out the Tweet, thousands reshared it. By 6 a.m. the family was rescued by the Cajun Warriors.
But Perry received some backlash for staying home.
Like many others, her family lost everything. Her best friend Alissa Kite started a GoFundMe page requesting assistance for Perry.
Please fill in your e-mail so we can share with you our top stories!