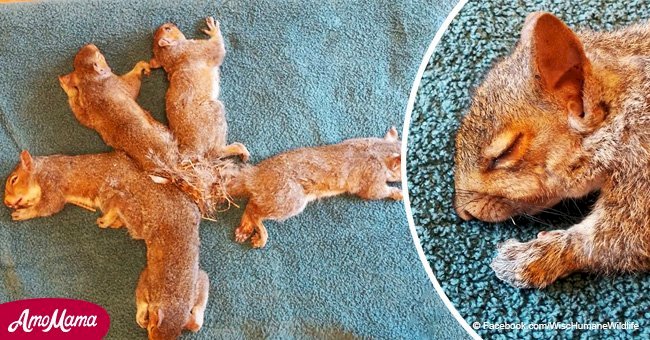 Baby squirrels rescued after being found with their tails tied together

The Wildlife Rehabilitation Center at Wisconsin Humane Society posted photos online showing a rare sight of wild squirrels tangled up in their own tails.
Along with the touching photos, the organization described what happened to the poor creatures before they separated them on September 14.
They called the true story "Tailspin!: A Tale of Five Tails" and so far it has touched over 1000 strangers on the internet and collected almost $1,000 in donations to care for the animals.
Follow us on Twitter for more @amomama_usa.
The group explained that the "Gray Squirrel siblings had become hopelessly entangled with the long-stemmed grasses and strips of plastic" that was used by mom to make their nest.
Had it not been for the concerned human that found them, the baby squirrels would have at the very least lost their tails, and more likely than not, their lives, too.
When they were first taken, the bundle of creatures was a "frightened, distressed ball of squirrelly energy." So they anesthetized "all five of them at the same time."
Once that was done, the team realized that the squirrels might have tissue damage in their tails due to circulatory impairment. They worked fast to untangle the "Gordian Knot."
They took a pair of scissors to the knot and was able to free the squirrels after about 20 minutes. After that, the animals started waking from the anesthesia.
Just a day later, all five of them were "bright-eyed" and up and about. Three of them were quite "bushy-tailed."
The team will watch over them a while longer in case tail necrosis occurs. It is insufficient blood flow in the tail and can lead to the death of tissues.
A
similar phenomenon
occurred in Elkhorn, Nebraska about four months ago. The Nebraska Human Society handled not five, but six tangled squirrels.
"It was like a tug of war, Craig Luttman told the Omaha World-Herald. He had discovered what was described as the "crazy phenomenon."
The squirrels were also anesthetized during the hour-long process.
Their knot resulted from sticky tree sap and unfortunately, some of the squirrels still required surgery due to damage during the entanglement.
Earlier this month, newborn squirrels were nursed back to health by Jennifer Burgin, a licensed wildlife rehabilitator.
A storm knocked over a group of baby squirrels' nest and the animals were immediately taken to Burgin.
Burgin has received quite a few of the adorable furry creatures that contribute so significantly to our eco-system as they help plant trees and extend forests.
Please fill in your e-mail so we can share with you our top stories!