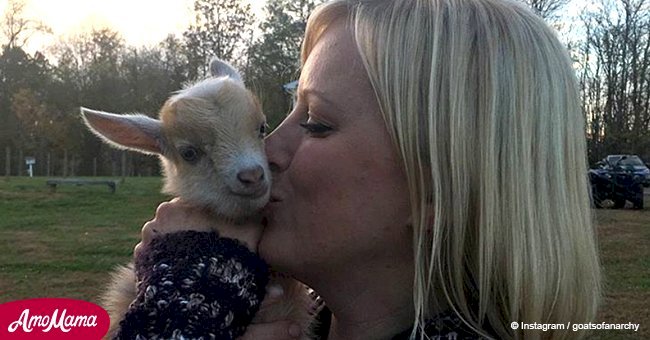 Woman decided to quit her NYC job for a very good cause
Step aside Sons of Anarchy. Goats of Anarchy are a new attraction.
"I was just so unhappy so I took a leap of faith, quit my job and just started to search for something to do with animals," she told WPIX.
Meet the lady that left her job to help these adorable goats in need. Here's a heart-warming story about Lauricella, who rescued two little goats and then went on to make it her life's mission. It goes to show that one person's actions can make a positive change in the world.
Follow us on Twitter @amomama_usa for more about this adorable rescue mission.
There's a little farm in New Jersey, sixty miles west of New York City, called Franklin Township.
This is where you'll find a place of tranquility and nature, away from the hustle and bustle of city lights and smog. A place where the main attraction are these adorable little goats.
Everyone is talking about these adorable goats and the amazing goat sanctuary on Twitter.
The little farm in New Jersey is run by Leanne Lauricella, who takes care of them and gives them food, shelter and aids them back to health. Making them as comfortable as possible.
Being a former city planner in New York, she had a sudden epiphany and decided to live her life to the fullest and give back to nature and doing what she loves best. Watch this adorable video to see how these goats are thriving in their new home.
THIS IS ONE OF THE MOST ADORABLE GOATS
"That was the beginning of my goat addiction," she said.
Goats of Anarchy has become a very popular place for visitors from all areas and for those who love donating to a good cause. The funny thing is that Lauricella's favorite television show is Sons of Anarchy, so it seems fitting that she named the farm after that show, just imagine goats instead.
"It was actually on my very first day of unemployment when Instagram featured one of our photos on their homepage and that day we got 30,000 new followers," she said, recalling the day she hit the social media jackpot.
Each goat that is taken care of has various ailments, such as frostbite to lost limbs and physical disabilities. Many are orphans who've been rejected by their mothers and each goat gets special love and attention and custom-made prosthetics accordingly.
Lauricella hopes to share this experience with others and educate them about the way farm animals are treated and how to care for them.
She is an amazing lady and these animals are blessed to have a new home.
Not all animals are as lucky as the Goats of Anarchy farm. Here is something animal lovers need to know and perhaps you can make a difference.
Please fill in your e-mail so we can share with you our top stories!