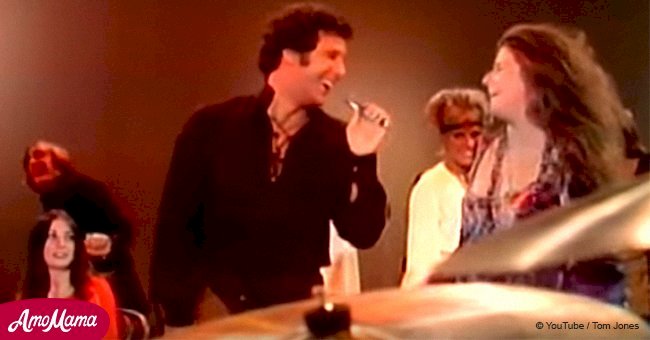 Let's remember the remarkable moment Janis Joplin and Tom Jones appeared together on live TV

Watch rare footage of Tom Jones And Janis Joplin's live TV performance.
In 1969, Joplin appeared on Tom Jones' TV show "This is Tom Jones," where the two legendary singers duetted on the pop tune by Eddie Floyd titled "Raise Your Hand."
Apparently, Jones and Joplin were both enjoying this performance. Follow us on our Twitter account, @amomama_usa, to learn more and scroll down to watch the video below.
Unfortunately, one year later, Joplin, who was one of the most successful and widely-known female rock stars of her era, passed away due to a heroin overdose at the age of 27.
Source: YouTube/Tom jones
Just over three months after she died, her album, "Pearl," was released which reached number one on the Billboard charts.
In a 2016 interview with Rock Cellar Magazine, Jones, whose career has spanned six decades, recalled Joplin having stated of his talent.
"Then with Janis Joplin, God bless her, she said to me when she came on, 'Look, I don't do variety shows; I'm only doing it because it's you.' So she saw through it," he said.
"Then when Janis and I did the rehearsal for Raise Your Hands she looked at me and said, 'Jesus, you can really sing!' I thought, thank God people like Janis Joplin had taken note."
Jones recently opened up about his health revealing how he had recovered from his surgery. He also shared his tips for staying fit and well, as reported by Express.
In September 2017, the award-winning singer underwent surgery to replace his left hip after the doctors discovered his cartilage had worn away.
"I'm completely recovered," he said.
The hitmaker revealed that the key to his speedy recovery had been exercise and keeping active.
"I didn't need the crutches on set of The Voice," Jones continued. "I had a cushion on my chair while filming but that is only because of got a habit of leaning back so it pushes me forward."
He cracked a joke saying he "think the left hip is better than the right one now."
"I love what I do, which is motivation. I take vitamins, walk two to give miles every day and I do cross training. You have to keep active," he said.
Jone's performing range has included pop, R&B, show tunes, country, dance, soul and gospel. His voice has been described as a "full-throated, robust baritone."
Please fill in your e-mail so we can share with you our top stories!