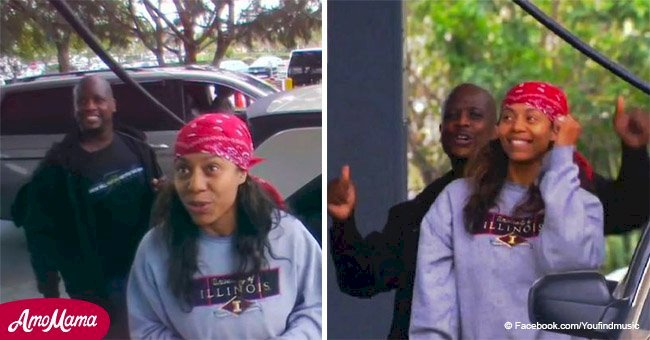 Gas pump camera encourages people to do some karaoke (video)
Will Sims was pumping gas but ended up breaking into a ballad of Bon Jovi's "Livin' on a Prayer" at the request of a fake news anchor presenting "Pumpcast News."
A viral Facebook video shows Will singing his heart out while his wife, Monifa, can't stop laughing inside the car. Follow us on our Twitter account, @amomama_usa, to learn more and scroll down to watch the video below.
The video starts with Will pumping gas and humming to himself. After reporting top headlines for drivers who stopped to fill up their tanks, the fake news anchor hears Will humming and tells him he will pay for the tank of gas if he sings a song.
Will quickly agrees and sings Bon Jovi's iconic song. Monifa feigns embarrassment but later jumps out of the car and offers to do the second song. Dressed in baggy sweatpants and bandana, she sang a pitch-perfect "Sweet Dreams" by the Eurythmics.
GOING VIRAL
"Whoever you are, you can make me a star. I'm ready for my spotlight," Monifa can be heard saying.
Shared on February 1, 2018, the video has already racked up 91 million views, 1.9 million shares, and 240,000 comments.
"Pretty much the best thing I've ever seen on Facebook! We need more great souls and laughs like this!! They are a great couple," one Facebook user commented.
"Hilarious, and what good sports for her to jump in with him. They must have a lot of fun in their marriage," another one wrote.
PLANTED
It may seem that the couple were found random, but they were actually picked by producers of the "Tonight Show" for the spoof segment.
The couple were brought onto Jay Leno's show and given an even bigger stage where they sang with the house band throughout the show.
During their appearance on "The Tonight Show," Will said he was a bartender and Monifa said she was a fitness instructor.
They said they were not "planted" but later on admitted that they were both actors with a history in Illinois theatre.
Please fill in your e-mail so we can share with you our top stories!