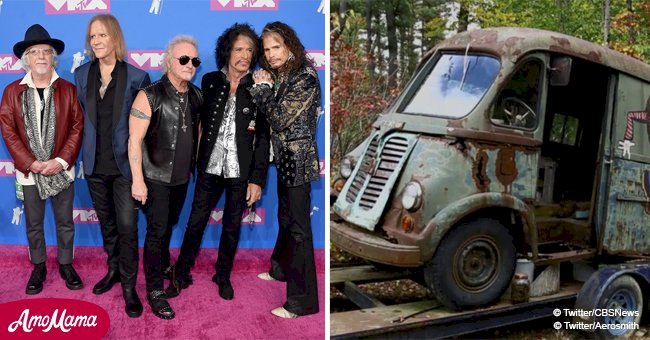 Aerosmith's old tour van from the 1970s was found in a small Massachusetts town
Roll like a Rockstar in a van that takes you back in time to the 1970's.
This guy is deep in the woods, he's off the grid, and I keep thinking to myself, 'what the heck would this van be doing here?'"
The hosts of History Channel's American Pickers found out about this rusty old abandoned van that couldn't be left there to rot after searching the woods in Massachusetts town for years.
Follow us on Twitter @amomama_usa to get more new on Rockstar Aerosmith painted tour van as the boys from American Pickers visits Chesterfield to inquire about this van.
Vintage News give more info about the van and what its worth. Before Aerosmith made a big four decades ago, they traveled throughout New England making a name for themselves. The band members used a 1964 International Harvester Metro van that was painted in bright colors across one side resembling a funky cartoon character.
THIS IS A CLASSIC WAYNE'S WORLD 2 - PICTURE FEATURING AEROSMITH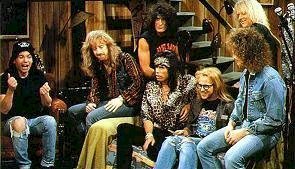 Aerosmith
Decades later, this abandoned rockstar van has been recovered and the pickers are interested. Upon inspecting the vehicle, they noticed that the door was missing and it was completely rusted and dilapidated. Despite this, knowing that this is a piece of American rock and roll history, the pickers are willing to name a price.
Rundown or not you could get a pretty penny for this van.
The International Harvester Metro was sitting on a property owners' land and had been there since he purchased the property.
AEROSMITH MAKING THEIR APPEARANCE
Aerosmith covered Rufus Thomas's "Walking the Dog" on their first album - showing that they are diverse in both blues and R&B. In concert, they regular perform James Brown's "Mother Popcorn" and have performed at many well-known and respected locations.
Nowadays they have platinum Grammy plaques to admire and remind them of their achievements, but back then when they won their first label almost 50 years ago, ecstatic to have the chance to perform in Vegas.
AEROSMITH AT THE MUSIC AWARDS
Every singer and performer have a story to tell. A meaning behind the song and a reason for that creation.
Whether or not the stories or legends are true, it gives their music soul and essence. A personality or character of its own and the fans love it. Due to these legends and their stories, Aerosmith is known to be used as rock history lessons with many fans following in their footsteps.
HERE'S THE LEGENDARY ROCK 'N ROLL VAN
It's not uncommon for band members to go solo from time to time. It's a way for them to find their own footing and give the solo life a try.
Aerosmith will always have a place in their fan's heart for decades to come.
And here's something similar if you're a fan of the American Pickers channel online. These guys travel far and wide to find rare and priceless artifacts that could even be the junk in your backyard and you wouldn't even know if it's valuable. The staff has to abide by a few rules and regulations when treasure hunting so make sure to follow them on their quest.
Please fill in your e-mail so we can share with you our top stories!