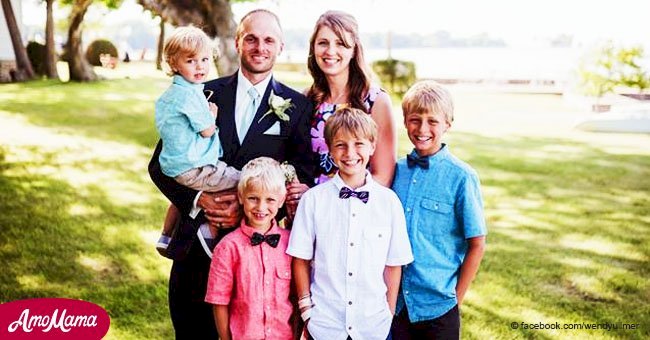 Devastated husband shares heartache after healthy mom-of-four dies in her sleep

Steve Ullmer will never forget March 17, 2017. That was the day his wife of 12 years passed away in her sleep.
Steve and Wendy Ullmer had been involved for 20 years altogether. They had raised four boys together aged 12, 11, nine, and four.
Steve, 38, created a Facebook page that would help him as he got through the heartbreak that stayed with him since the night of his wife's death.
Follow us on Twitter for more @amomama_usa.
On it, he shared the story of what happened that horrible night. Additionally, he spoke to PEOPLE Magazine:
"There were no warning signs or anything out of the ordinary. It was a normal, fun night at my mom's."
The Wisconsin couple lived in Sherwood but had just visited their mother earlier that day. It had been a fun family day as expected.
When the couple was in bed that night, Steve described a strange thing he did:
"I don't know why, but I just happened to wake up and I looked over at [Wendy] and she looked peaceful."
The night then changed drastically. Steve explained:
"Then I heard her breathe, and it didn't sound good. It was more like a gasp, so I tried to wake her up. She would not wake up and there was no response, I was shaking her and screaming. I got really scared, it was just terror. She was just lifeless, no response at all."
Steve did what he could, performing CPR until the EMTs arrived. When they finally got there, nothing got better despite their attempts. She was taken away.
He continued:
"I was with her for her last breath."
He sped to the St. Elizabeth Hospital in Appleton with his dying wife. There, doctors worked on Wendy's heart which stopped and restarted many times. According to Steve, "They had her hooked up to all kinds of machines and I had to tell them to stop."
When her heart didn't start again at 9:51 a.m. the following day, Steve himself said it was her time to go.
"That was the hardest moment for me," he said. "I remember that moment so vividly. It's burned in my mind, a room full of doctors and nurses trying to revive her. And I had to say stop. It was so hard."
Wendy and Steve were involved since high school. Steve related how his former wife had put up with his problems using alcohol and drugs.
He said that at 22, he found God and gave his life to him. Two weeks later, he proposed to Wendy and they got married the next year.
Their marriage was "strong, far from perfect, but never better" 13 years onwards. They had just found a new place, ready to start a new chapter. Wendy was 36 when it happened.
Difficult nights followed for the family after Wendy's untimely death. For months Steve and his four boys slept all together in one room.
In mourning, Steve said, "A darkness came over me, the finality of death. What happened? Why did her heart suddenly stop? Did I do something wrong?"
The despairing widower described how he "felt like a zombie, just going through life. It didn't feel real. I was stuck in this nightmarish reality that she's gone. It's hard to write an obituary for someone you were just with."
And she was also "healthy" to Steve and herself before the horrible incident. Doctors had told Wendy that she shouldn't worry despite her past irregular heartbeats.
In fact, five years had passed since her last palpitations. They only came back the day before she passed.
It was five months later that a coroner informed Steve that Wendy's death resulted from a cardiac sarcoidosis, an inflammatory illness whereby blood cells cluster in the heart's tissue.
But for Steve, "it didn't change anything." He's just "thankful for the years" with his wife. He's relied on faith to get through the challenge.
However, a stranger also stepped in to give Steve support. Erin Stoffel, a mother of three, could relate too well with Steve's story.
Her husband and one of her daughters died in a 2015 incident in which a gunman fired towards them on a local bridge. He had been drunk and suicidal.
"I'm overwhelmingly thankful that I met someone that can relate to me, who has experienced loss like I have. We both came from good marriages … there's so much commonality between us."
Steve and Stoffel started seeing each other in September 2017. By April 2018 they were engaged. Their wedding took place on June 28.
Stoffel is a mother of two now. She joined Steve in Sherwood and Steve said the two "both feel very blessed." Stoffel is also strong in her faith.
The "bittersweet" relationship is not a total band-aid on Steve's enduring heartache.
He says some days are hard, and he still misses his former wife. Since he lives in the same house, "there are reminders of her."
Please fill in your e-mail so we can share with you our top stories!