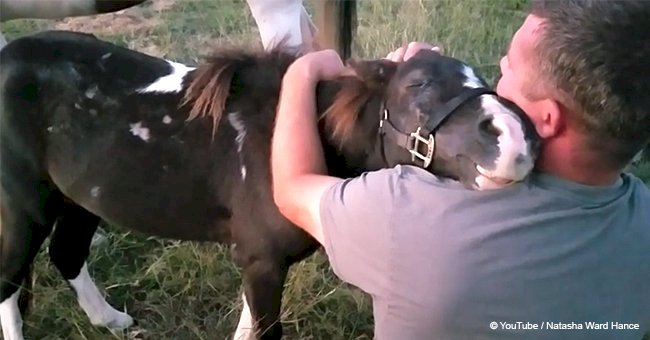 Man saved horse from death, so little animal gives incredible 'thank you' to his savior

Kirk Hance knows the tenderness of animals, especially those that are saved from cruelty. One grateful horse he rescued showed so much affection it melted hearts on the internet.
According to the Dodo, Kirk and his wife Natasha recently relocated to a small farm in Fort Worth to give their rescued pets more space to move around.
They expanded their animal variety by taking in horses later on. Kirk began his search but was appalled by what he found online.
The touching video of what happened later is found below.
Follow us on Twitter for more @amomama_usa.
He came across horse auction sites, a medium used to purchase horses that would later be slaughtered in Mexico or Canada.
Horse Spirit reported that over 100,000 horses are taken from the United States on a yearly basis. Kirk was clueless about the auctions at first. He said:
"I honestly didn't know that such places existed. I showed my wife the site and it really got to us."
He added: "My wife spotted both a little paint mare and this little pony; both were being shipped at the end of the day if nobody could step up. We just jumped immediately and purchased them."
The two animals had been clearly neglected. In particular, the pony retracted from his new family.
"He was sick and just kind of stared at the ground. I'm convinced he was severely depressed," Kirk recalled.
The horse, named Tobias, was apparently doubtful that these people were the compassionate humans they wanted to be towards the poor creature.
Kirk gave the pony all the space he needed to settle in. It took a while, over 48 hours, but he came around.
He just wasn't accustomed to receiving love and care. His scars pointed to a rather long history of abuse instead. But Kirk didn't give up on him.
"I knew I needed to get down on his level and just show him I cared for him."
He described what led to the incredibly touching video:
"He came up to me, and what started as me just petting him softly and reassuring him it was OK, turned into a full embrace. I just sat there for a few minutes holding him. He seemed to relax and almost fell asleep as if he knew he was safe."
Kirk said, "He melted my heart." Like many who learned of Tobias' story, Kirk "was taken aback at how people can be so mean to an animal that just wants to be loved."
Tobias and the other horse are doing well so far. He receives lots of attention from Kirk's five kids who "love on them daily."
Hurricane Florence also saw several heartwarming rescues of trapped animals throughout its devastation of North Carolina.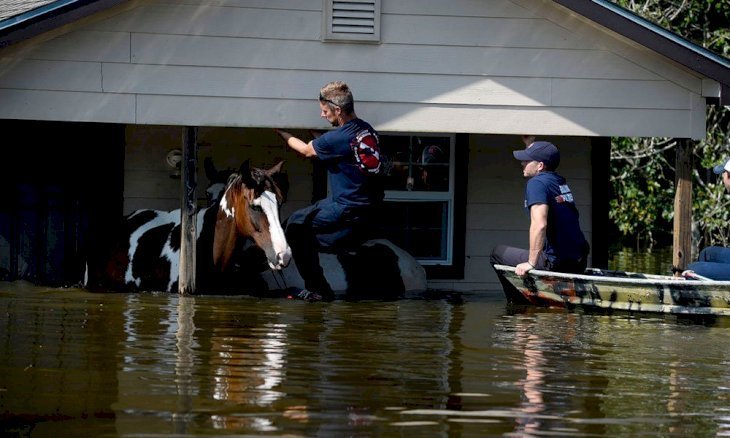 Source: Cowgirl Magazine
Horses in Texas as well had to be saved due to flooding. Considerate individuals were there to complete the difficult task.
Undoubtedly, Tobias and the other horses were thankful for getting another chance at life. Perhaps now they can be themselves.
Animals, like us humans, love to receive affection. They also enjoy lots of relaxation time.
Animal Channel showed just how much they do by posting a hilarious video in 2014 which captured a group of horses at Equinisity Retreats in Canada.
The clip, recorded by a woman named Liz Ryan, shows the animals enjoying their naptime, and farting away as they move about.
Please fill in your e-mail so we can share with you our top stories!