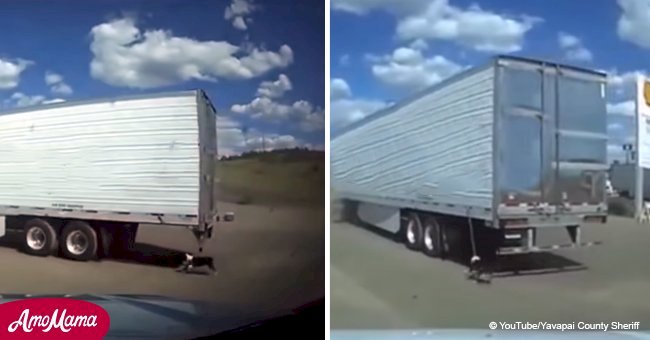 Dog tied to a moving truck struggles to keep up until a good Samaritan saves him

Pitbull almost runs out of time.
On September 8 Stephen Edgar, a YCSO Volunteer in Protection was on his way to an unrelated animal abuse call and pulled into the wrong Shell in Ash Fork, Arizona.
On his way out of the gas station, he notices a semi truck pulling out.
Read more on our Twitter account @amomama_usa.
HOW THE EVENT UNFOLDED
Attached to the back of the semi was a dog, running along trying to keep up.
Edgar said:
"It only took a split second to realize I had to get him stopped. At first, I honked the horn, but realized, they probably hear horns honking all the time, so that's when I hit the sirens and lights and that got his attention very quickly.The truck driver stopped immediately."
Edgar continued:
"The driver, when he realized what happened, he bailed out of the cab really fast. [His] cell phone was hanging out, worked his way back to the dog, and he was very grateful that I got him stopped."
WHAT HAPPENED TO JAUNEY
The owner rushed to the young dog, Jauney, his 19-week-old female pitbull.
Before heading into the convenience store the driver tied the pitbull up at the back of the semi in the shade.
On his return being distracted, he got back into the truck and drove off, forgetting about Jauney still tied up back.
YCSO did not lay any charges.
A chain store, PetSmart recently faced animal abuse charges after an investigation was launched following allegations that at least 4 dogs died under their care while there for grooming. More on this story here PetSmart faces animal abuse allegations after at least four dogs died in the store's custody.
The Sheriff's Department said on Facebook:
"A very grateful owner retrieved his pet and expressed deep appreciation for the VIP's efforts. The driver was simply distracted and headed towards the interstate forgetting to unleash his dog. No charges are being sought. Thanks to the work these dedicated volunteers do day in and day out and for the actions of this VIP to save this dog."
In another story a man admitted to tying his dog to the bumper of his Chevrolet pick-up truck, driving around the block.
His motivation was to discipline the dog for getting out of the yard. More about this story here Man admits to dragging dog tied to truck to 'discipline' it, police say.
Please fill in your e-mail so we can share with you our top stories!