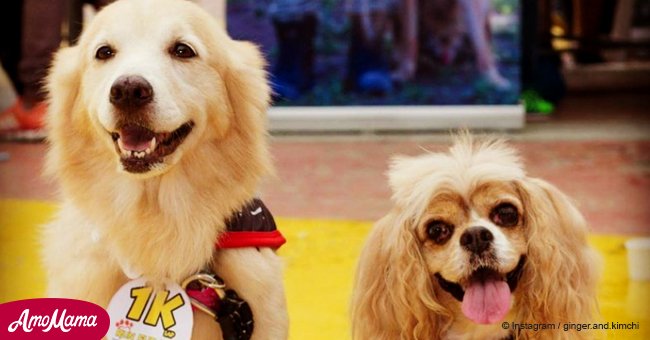 Blind dog has a personal guide dog that takes him around
A blind pup has a pal who leads him safely everywhere he needs to go.
Kimchi is blind, and like many of the blind has his own seeing-eye dog. There is nothing unusual about the story, except for the fact that Kimchi is a dog too.
His story was posted on Twitter by 9GAG on September 24, 2018, and is quickly going viral.
Kimchi is a 10-year-old dog cocker spaniel who knows quite a bit about life on the streets. He was mistreated, abandoned, and found sick and starving living in the streets of Quezon City, Philippines.
"He was thin, mangy, weak, with flea-infested matted fur, and already blind. He was later adopted by a family with a Golden Retriever mix called Ginger, who is now almost 13 years old. Since then, a very special bond has developed between the two."
A BLIND DOG WITH A SERVICE-DOG ALL HIS OWN
If life was once harsh for Kimchi, it has certainly turned around. This brave dog was rescued and adopted in 2012 by a couple - Eric and Thea - who already had one dog, Ginger.
Originally, Eric and Thea had intended to pick another animal, but Ginger and Kimchi hit it off, and the decision was made to take him home.
AN ACCIDENTAL SERVICE-DOG
The unusual bond between the two dogs deepened when Eric and Thea tied Kimshi's leach to Ginger to prevent him from wandering off. But Ginger instinctively started walking and carefully guiding his friend's footsteps.
INSPIRING PEOPLE AND VISITING THE SICK
Ginger and Kimshi now visit hospitals and inspire many people with their friendship. The video of Ginger patiently guiding Kimshi down the stairs of a hotel has gone viral and garnered thousands of views in just a few days.
SERVICE DOGS COMFORT DISASTER SURVIVORS
After Hurrican Florence swept through North Carolina and left thousands homeless and despondent, volunteers from the Alliance of Therapy Dogs have been visiting the survivors and bringing a little joy into their lives.
Margot Bennett explained that the dogs provide emotional support and give people a sense of peace and comfort.
Therapy dogs and their owners/volunteers first started intervening in disaster areas in the Summer of 2018, when a series of devastating wildfire swept through California, leaving many destitute.
In a related story, an 11-year-old girl diagnosed with a rare genetic condition that confines her to a wheelchair is able to walk by hanging on to her dog, George the Great Dane.
Please fill in your e-mail so we can share with you our top stories!