Heartbreaking moment horse starts 'crying' at his owner's funeral (video)
Sereno, the horse of Wagner de Lima Figueiredo, was taken to his former owner's funeral and he wowed everybody when he laid his head on Wagner's coffin.
Wagner's brother, Wando, knew the close relationship Sereno and Wagner had, so he considered that taking the horse to the funeral was a nice gesture that his brother would have appreciated.
What he never expected was to see Sereno "crying" in front of the coffin and even laying his head on it, just as if he was devastated over his loss or saying his last goodbye.
Wando pointed out that Sereno was everything to Wagner and that, during the ceremony, it seemed like the mourning horse understood what was happening and made sure to express his feelings.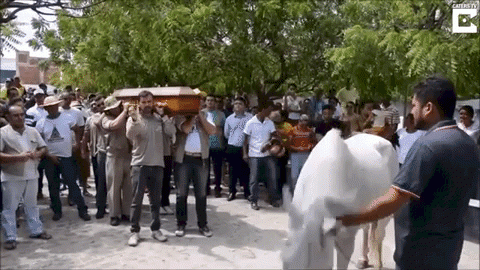 HOW DID HE DIE?
As Metro reported, Wagner passed away on New Year's Day 2016, after he lost control of his motorcycle while riding along a beach on Paraiba, northeast Brazil, and had an accident.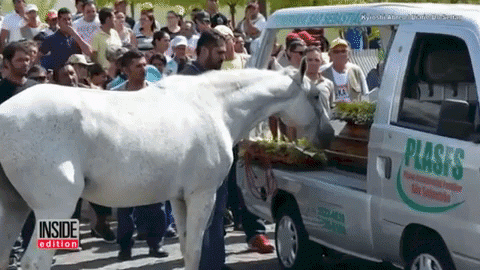 He survived the crash and was taken to a nearby hospital. Even though doctors performed two critical surgeries and did everything they could to save him, he sadly passed away due to his injuries. The funeral took place on January 3, 2016.
The heart-breaking moment horse cries at owner's funeral, captured https://t.co/ak8H89b2m3 pic.twitter.com/vISTVbbie0

— KSDK News (@ksdknews) January 9, 2017
WHY WERE THEY SO CLOSE?
Wando was a semi-professional cowboy who performed in different rodeo shows for eight years next to Sereno. Their performances were so good that they won dozens of tournaments and prizes. 
Read more on our Twitter account, @amomama_usa. 
"As we brought the coffin out at the beginning of the funeral, Sereno sounded like he was crying and as if he recognized that his owner was finally leaving him. He pounded the ground with his hooves and kept on whinnying. It was very sad," admitted Francielio Limiera, a friend of the family.
AN IMPRESSIVE RELATIONSHIP
Wando pointed out that Wagner loved Sereno so much that he would sometimes stop buying things for himself to make sure his horse had everything he needed.
ANOTHER SIMILAR STORY
A horse in Victoria, Australia, was sunk to the neck in the mud of a beach when the tide rose, and he was about to drown to death.
Thankfully, his owner, Nicole Graham stayed with him the entire time trying her best to calm him while the rescuers arrive at the scene.
They spent three hours to finally drag Astro, the 18-year-old horse, out of the mud. A vet had to sedate it, and a farmer lent his tractor to save him.