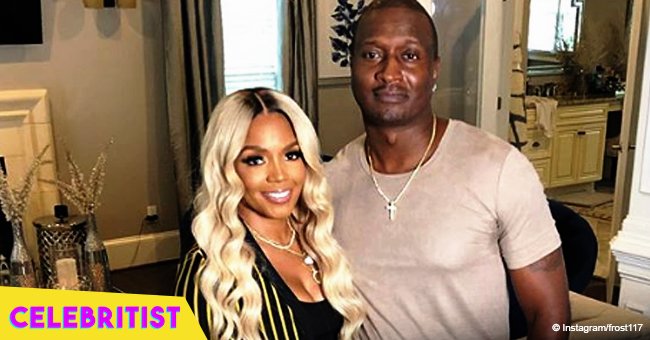 Kirk Frost melts hearts posing with his and Rasheeda's 2 sons in adorable photo
Kirk Frost is a doting father as he posed with his two eldest sons, Ky and Karter, in a recent pic shared to his Instagram account. His youngest son, Kannon, the result of an affair that almost cost Kirk his marriage, was not in the family picture.
After facing a massive backlash for cheating on his wife of almost 13 years, Rasheeda Frost, Kirk is now looking happy again in the company of his two handsome sons. In an adorable -only boys- photo shared to his Instagram, Ky, 17, and Karter, 5, look like the perfect mix of his famous parents.
Kirk kept it casual wearing a black t-shirt with a graphic on the front, dark jeans, black shoes, sunglasses, and a black cap, while Ky was donning a white t-shirt with black sweatpants and a matching hoodie, and little Karter was rocking a denim jacket, matching shorts and red shoes.
While Kirk didn't write anything on the caption of the pic, fans of the "Love & Hip Hop: Atlanta" star took it upon themselves to share their thoughts on the pic and Kirk's relationship with his sons. One fan wrote:
"I thought Ky looked like Sheeda but he is your twin with her color, and Karter is a perfect mixture of both of you."
Another added:
"Ky about to pass you up @frost117 handsome man love me some Frost Family."
And a third one said:
"He loves that little boy...close bound it shows."
Meanwhile, Kirk's youngest son, Kannon, has not been featured on his Instagram account even after it was shown on "Love & Hip Hop: Atlanta" that Rasheeda allowed her sons to meet their brother. Kannon, who's now 2-years-old, was born from Kirk's affair with former stripper Jasmine Washington.
Jasmine was featured on the reality as she tried to make peace with Rasheeda, but the boss chick was not so easy to persuade. However, by the end of the season, and after a dramatic turn of events, Rasheeda decided to give Kirk and their marriage another chance. She also allowed her kids to meet their little brother but admitted that she's still not ready to meet little Kannon.
Please fill in your e-mail so we can share with you our top stories!