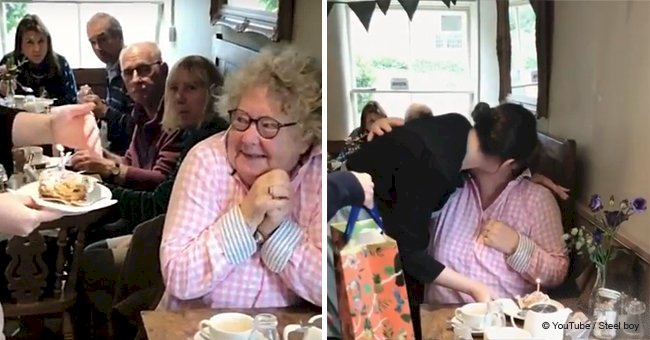 Elderly woman's hilarious reaction to a free birthday cake shows what kindness is all about
An 8-second video was enough for this unknown old lady to steal everybody's heart with her sincere gesture of thankfulness after the personnel of a diner she frequents have a beautiful detail on her birthday.
The short clip was uploaded to Reddit by user "commonvanilla" on September 21, 2018, and it doesn't give any information of the lovely woman. It was also uploaded to YouTube. It has received positive comments on both sites.
The footage shows a crowded diner. An old white-haired woman with glasses, wearing a pink gingham shirt shows her delight by clasping her hands together as she sees a waitress approach her table with a piece of birthday cake in her hands.
The surprised customer can't hide her joy as the waitress puts the cake on the table shielding the candle they lighted to honor her on her special day, and she thanks the young woman with a hug and a kiss.
A second waitress follows with a gift bag in her hands, and the two employees from the restaurant are all smiles as they make this woman's day with their kind display of affection and attention. Read more on our Twitter account @amomama_usa
We can see an old man sitting across the table who also looks surprised by the gesture from the diner's workers. We can assume he is the woman's husband and that the two are regular and beloved customers of the place.
The captured moment has touched many hearts, and Internet users who have run into it have made sure to share her impressions about it in the comments section of social media.
"Everyone likes to feel special in their day and this is a pure reaction of joy and happiness. Thank you for sharing."
-NobreLusitano, Reddit, September 21, 2018.
"Nooooooo! This [is] too cute. [I] can't handle all this cuteness," wrote user "A7medosky." "I've watched this so many times. It's one of the most lovely things I've ever seen," added "eattree."
It is uplifting to hear so many stories about people taking part in random acts of kindness, and young people showing respect and empathy for the elder, even when they don't know them at all.
A 18-year-old waitress from Texas never imagined that her selfless act was going to make her a viral star and that she was going to receive such a reward for doing what she knew was the right thing to do.
Evoni Williams was photographed on March by a costumer of the restaurant where she worked when she helped a 78-year-old man cut his food, and the image was posted on Facebook.
The simple but meaningful act struck a chord in so many people's hearts that it received major coverage in the media, and Williams ended up being granted a $16.000 college scholarship in recognition of her kindness.
Another restaurant employee became and example of empathy when she went out of her way to comfort a 4-year-old boy and his mother when nobody showed up to a birthday party that was organized for the child at Chuk E. Cheese.
When the employee of the well-known pizza place, Taylor Inzinna, noticed that everybody had let this sweet child's down on his special day, she did something amazing to give this boy the good memories he deserved.
Please fill in your e-mail so we can share with you our top stories!