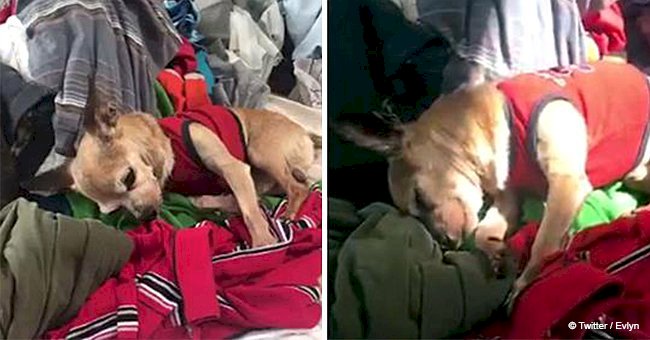 Little dog burrowed into his late owner's clothes to get his favorite smell one more time
Six years after his passing, the dog still mourns for his dead owner.
Evlyn Castro's uncle passed away and left his dog Paquito in her care. The dog had been her uncle's best friend and the tiny animal never forgot him, though he passed away 6 years ago.
Recently, Evlyn realized how much little Paquito really missed his friend. Evelyn had been helping her aunt tidy up her cupboards and had found a box of her uncle's old clothes.
Paquito's reaction to his beloved friend's scent was captured and posted on Twitter/ evlyncastro16 and has gone viral.
"We took out all the clothes and put them on the floor to finish drying. As soon as we did, Paquito ran in. He laid down on top of the clothes and spent a long time smelling and snuggling them."
Evlyn Castro, Twitter/EvlynCastro, September 24, 2018.
THE SWEET PUPPY CRIED FOR HIS FRIEND
In the video, Paquito smelled the clothes that had belonged to Evlyn's uncle and snuggled up to them. From that moment on, he would not move away.
Paquito lay down on his dead master's clothes and seemed to be overcome with grief and longing.
PAQUITO WOULDN'T LET GO OF THE CLOTHES
The scent of Evlyn's uncle clinging to the clothes brought back all of Paquito's longing for his dear friend, and he could not be persuaded to leave them. He lay down on top of the clothes and sniffed and snuggled them.
HOW LONG DO DOGS REMEMBER SOMEONE FOR?
Like Paquito, many dogs seem to cling to the memory of their departed or absent owners for years. Some even refuse to leave the graves, and others die of grief. But for how long does canine memory endure? Experts define dog memory as lasting for 15 minutes and 15 years.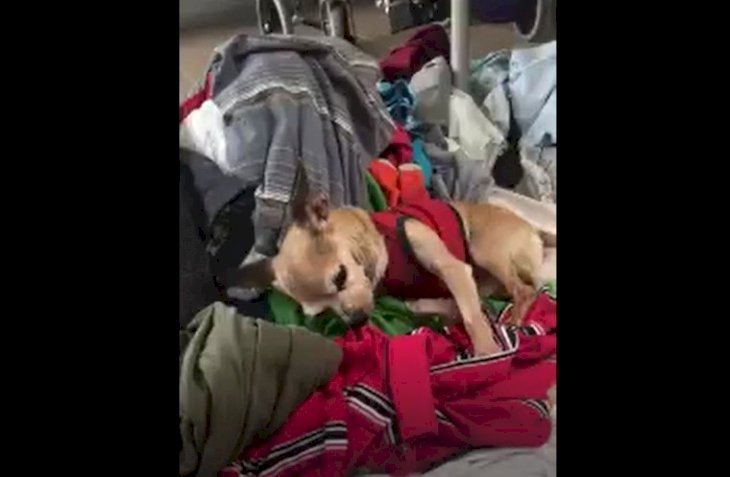 Source: Twitter/ EvlynCastro
A DIFFERENT TYPE OF MEMORY
A dog who lost a master or a friend won't have that loss constantly present, but if something like a scent - as it was in Paquito's case - triggers that memory, for the dog it will be something immediate.
The dog's grief will be as fresh as if the loss had taken place at that moment. Dogs have no concept of passing time as humans do. So a dog can go for years without actively "remembering" someone, but be back in the emotional moment when that memory is revived with greater intensity.
In a related story, a pit bull started crying, showing 'humanlike' emotions and unbearable sadness at being abandoned by his family.
Please fill in your e-mail so we can share with you our top stories!