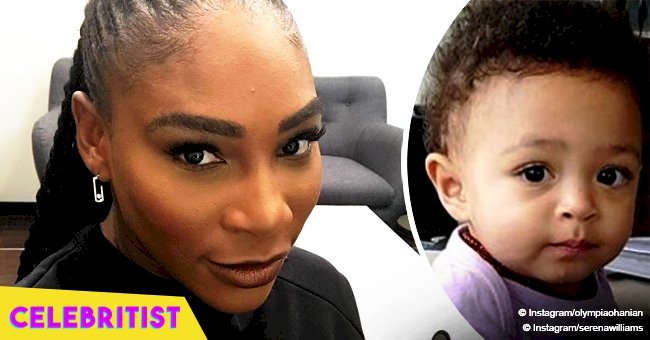 Serena Williams' daughter melts hearts posing in bright pink kimono from Japan

Serena Williams' one-year-old tot, Olympia Ohanian, is a sight to behold in her latest gift from daddy. Williams also reminded us recently why Olympia is already a fan-favorite at such a young age.
The photo, shared on Olympia's Instagram page showed her wearing a bright pink kimono set. She looked to be checking out the floral piece as she inspected an outstretched arm.
"Papa can't help himself... always brings me something from business trips," said the caption, referring to Olympia's Tech mogul dad, Alexis Ohanian.
Judging from the social media pages of both parents, Olympia is one loved child, but as Williams revealed some days ago, there's more to Olympia than meets the eye. The tennis star shared her daughter's surprising reaction after her controversial U.S Open defeat.
"I got in the car, and Olympia was in the car," Williams said, adding that:
"It was so weird. She started giving me kisses; she never gives me kisses. She doesn't even know to give kisses ... and she just grabbed me. This little baby is so smart."
It's almost as though little Olympia, who turned one on September 1st, is aware of the challenges her mother continues to face. Williams highlighted those hurdles when she spoke to People on Sunday. A primary area of difficulty is trying to find a balance among all her commitments.
Williams confessed:
"It's been so hard balancing being a mom and starting my clothing line, as well as playing a professional sport! However, it is the challenge that makes it fun!"
"I have spent every day with Olympia since she was born, and one of the latest challenges has been her teething. I'm sure a lot of parents can relate. A milestone has been her walking — I get a good workout chasing her around the house!"
Meanwhile, Olympia is no stranger to rocking stylish pieces. One of her most popular costumes was a miniature version of the outfit worn by her mom to play in the U.S. Open.
Williams had made headlines with her black tulle dress created by Nike and Off-White designer, Virgil Abloh, and Olympia wanted to show she's just as fashionable. She rocked the dress with white sneakers and posed pretty with her toy stroller.
With a baby as thoughtful and cute as Olympia, business trip gifts can never be too many.
Please fill in your e-mail so we can share with you our top stories!