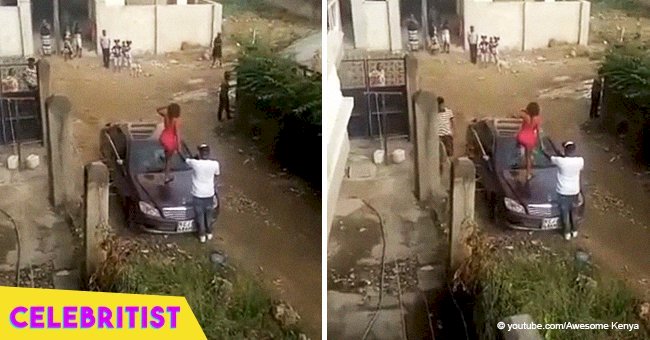 Video of woman destroying a Mercedes after her boyfriend reportedly cheated on her goes viral
A woman who discovers her boyfriend was cheating on her exacts her revenge by destroying his Mercedes.
Hell hath no fury like a woman scorned as they say and a woman from Kenya just proved this.
In the video, she can be seen on top of the car's hood as she furiously damages it.
In a video that's now gone viral, the woman is seen smashing the windshield of her boyfriend's Mercedes.
The undated video features a woman identified as Cynthia Keru, wearing a short red dress and standing on top of a Mercedes Benz C200.
The car's windshield is smashed and she appears to have been responsible for it.
The woman continues to do damage to the car by slamming her feet on the glass several times as two men standing by the car urge her on.
She walks over to the other side through the roof and continues to bang her feet on the rear windshield before the two men lift her off and carry her away after she gave them a high five.
According to reports, the clip was recorded in Mombasa by a neighbor who could be heard in the background wondering what was going on.
The car is allegedly owned by her boyfriend who had cheated on her. The boyfriend didn't appear to be on site when the incident occurred.
This situation is similar to another woman in Migori who destroyed her husband's Land Rover after he left her and their six children to elope with another woman.
The scorned woman identified as Joyce Kandie lost contact with her husband since he left and did not receive any money from him to fend for her family.
She tracked him down and eventually found his vehicle which she ended up destroying due to her anger.
Please fill in your e-mail so we can share with you our top stories!