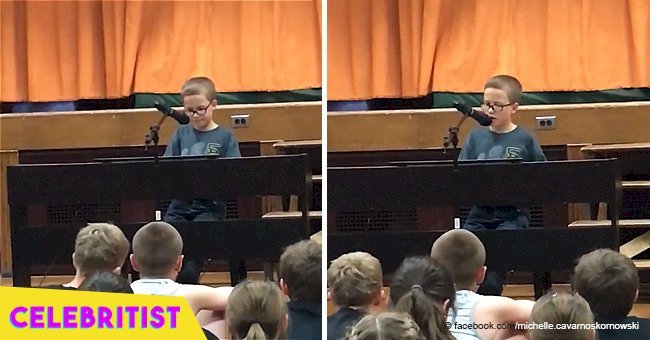 Fourth grader's amazing performance of John Lennon's 'Imagine' gets standing ovation
An adorable 4th-grade student performed his rendition of John Lennon's "Imagine" and had everyone teary eyed. The child showcased his skill for playing the piano and singing and received a standing ovation.
10-year-old Adam Kornowski is a 4th-grade student at the Lakeside Elementary School in Chisago, Minnesota who decided to participate in their 2018 talent show. He prepared a piano piece of the song "Imagine" by John Lennon, accompanied by his angelic voice, and left the crowd in tears and in awe.
The video was posted on Facebook by Adam's mother, Michelle Cavarnos Karnowski with the caption:
"Adam had his all-school talent show today. He did Imagine. There wasn't a parent in the room with a dry eye by the end. He got a standing ovation and the applause lasted forever!! A woman stopped me to tell me that she would buy it on iTunes if I put it out there!! I love his bow at the end… so polite!"
The video quickly went viral and gained 13 million views and 313,000 shares.
Facebook users commented things like:
"I have been to many children's talent shows and that is one of the best I have seen. Keep playing and singing"
"What a warm heartfelt voice! We need more kids like this in the limelight! Kudos!"
Michelle soon after posted a show of gratitude to those who shared and commented nothing but warm praises about her son's cover. She said that these compliments will definitely inspire her son to continue working on his talent, especially since he knows that so many people are supporting him from around the world.
"Please know if you liked, commented or shared it we are very grateful. People have said the most beautiful things and I know he is feeling wonderful about it. I will keep reading the comments and sharing them with Adam. I am in awe of the response. So thank you all!!"
Adam's choice of song was a great pick, especially amidst all the bad things happening today. It was a song that touched the hearts of both young and old and had a greater impact coming from a 10-year-old.
It is a mother's pride and joy to see their child doing what they love, and people actually recognizing them for it. This is what exactly happened to Michelle and Adam, who were stunned by the number of people whom they've touched due to the John Lennon rendition that the 10-year-old sang.
Please fill in your e-mail so we can share with you our top stories!