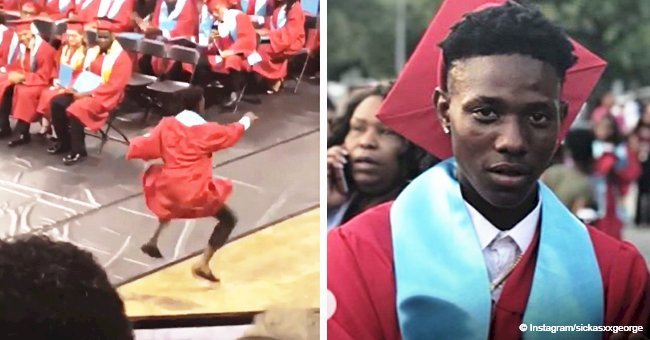 High school graduate's celebratory dance after receiving diploma went viral

A high school graduate gives his batchmates a surprising celebratory dance after receiving his diploma. The video of him strutting his stuff on the graduation walkway has since then gone viral, garnering over 2 million views.
This year's high school graduates at the Broadmoor High School received a surprise dance number from one of their batchmates. In a video posted on Instagram, one of the graduates gave a very energetic but short dance on the aisle, after receiving his diploma. The video was posted by Instagram user @sickasxxgeorge with the caption:
"My last time goin [expletive] ima miss high school."
The video quickly went viral and gained over 2 million views on the social media platform.
Clearly, the graduate has always been known as a jokester in high school, given his caption that said it would be his last time going crazy in high school before he and his batchmates would all part ways and go to university.
Similarly, another graduation video went viral after one graduate "twerked" before receiving her diploma. Comments regarding the video of the girl were not very positive as her little show was not very proper and nice to look at. The graduate was slammed on social media for being "ratchet." One social media user said:
"I'm all for graduation celebrations and celebratory dances BUT pulling your grad gown up to twerk is a bit much, ma'am. You can celebrate and keep your class in dignity…ijs."
Meanwhile, other users defended the graduate, saying she was just happy and that was her way of expressing it.
While graduation really is a celebratory moment and one that each student will never forget, it cannot be denied that the ceremony itself is a formal event, which one should properly behave in. The main argument would be that there is a right time, and a right place to do different things – and a graduation ceremony is really not the right place nor the right time to dance, and especially not twerk. Maybe those things can come at the after party, but definitely not the ceremony. Despite the hateful comments, congratulations to the new set of graduates!
Please fill in your e-mail so we can share with you our top stories!