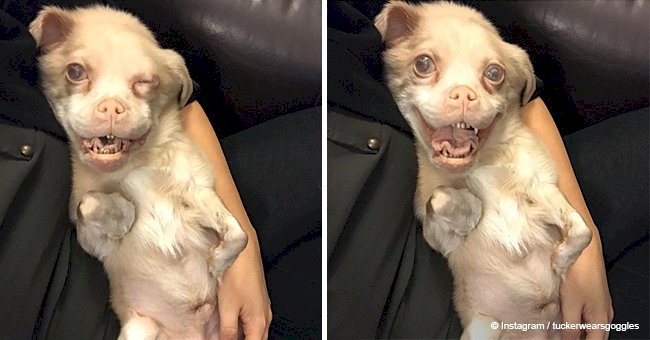 Dog with rare disease continues to enjoy life, although it looks like a bat
What does one do with a deformed dog? It may seem easy to disregard it completely or throw it out with the trash as was the case with Tucker.
Born deformed as a result of a rare condition, Tucker who's features resemble that of a bat has a heartfelt story. He was found in the trash where he was perhaps left for dead. He was rescued and given a home as he was adopted, and he soon after captured the heart of his owner and the social media world.
His instagram account @tucekerwearsgoggles has attracted over 46,000 followers. He has received several encouraging comments and likes, and has perhaps become one of the most popular dogs this year. His owner loves him and he loves spending time with her and other dogs, despite the fact that he cannot walk perfectly.
https://www.instagram.com/p/BnzyLFbgI5G/?taken-by=tuckerwearsgoggles
Tucker's condition has deformed his front paws and caused him to have cloudy eyes. The Chihuahua-Miniature Poodle has managed to adjust to his deformed paws and play outside, much to his delight. His bat like features is the description given to him by the many followers on Instagram. When you check out his instagram account you will find evidence that supports their interpretation.
https://www.instagram.com/p/BiGY5ujgYBl/?taken-by=tuckerwearsgoggles
The rare deformity that Tucker has is called, Mucopolysaccharidosis VI or MPS VI for short. It is also known as Maroteaux-Lamy Syndrome. The effect it has on the dog's body is its a inability to cause enzymes to break down large sugar atoms bonded together. This causes a build up of sugar in the dog's body and causes cellular damage. It also causes Tucker to have enlarged organs and an unusual skeleton which affects his mobility.
https://www.instagram.com/p/Bin7jdMARXq/?taken-by=tuckerwearsgoggles
In addition to his inability to walk normally, his cloudy eyes have caused him to where goggles when he goes outdoors. This was provided for him by his owner who spends a lot of time with him and engages him in playful activities as she would with a normal dog.
https://www.instagram.com/p/Bh_5N4DAcx9/?taken-by=tuckerwearsgoggles
Tucker has warmed our hearts and he is a reminder that there is hope in any situation.
https://www.instagram.com/p/BgdBUwsgTm3/?taken-by=tuckerwearsgoggles
https://www.instagram.com/p/BbC6cOwDx9K/?taken-by=tuckerwearsgoggles
https://www.instagram.com/p/BJy0HsrjmQ_/?utm_source=ig_embed
Please fill in your e-mail so we can share with you our top stories!