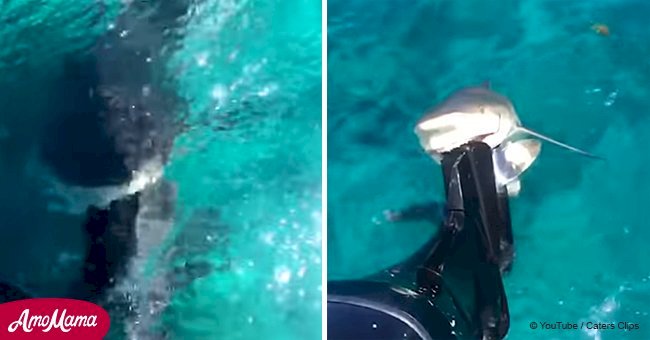 Shark attempts to eat the engine of a boat and the fisherman's video goes viral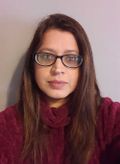 A man fishing off Current Island in Bahamas got more than he bargained for when a shark bit his boat engine. Luckily he caught the whole encounter on video or it would have sounded like just another fishermen's tale.
James Munroe was fishing for barracuda when a lemon shark took his bait instead. The fisherman from Eleuthera was just about to release the big fish when the shark decided to bite off more than it could chew.
The stubborn shark grabbed Munroe's boat engine, much to his surprise, and appeared to give him a wide, toothy grin.
Read more on our Twitter account @amomama_usa.
The 4ft-long shark sunk his teeth into the motor and Munroe was unable to shake him loose. All the time the shark was displaying his fearsome smile.
Munroe expected the shark to drop back as the boat moved along in the water, but the shark had other ideas. He just continued to hold on.
Even when Munroe lifted the engine out of the water hoping to dislodge the troublesome shark, the fish continued holding on with his head above the water.
Munroe said:
'I was so shocked - I didn't expect that at all. I cut the line and shook the engine slightly and he came off.'
His social media posts racked up thousands of likes and comments with people joking and making puns. Looks like one fishing trip that will live on in his memory forever.
In other shark-related news, thousands of them are still deliberately killed in Australia by being impaled on giant hooks to protect tourists visiting the Great Barrier Reef.
Animal-welfare campaigners claim that around 10,400 sharks have been killed in Queensland since 2001 using a method critics call 'cruel, outdated and ineffective,' with most of them being harmless to humans.
In a less disturbing post on AmoMama, a picture of a shark – also taken in Australia – revealed a remarkable optical illusion when viewed from a certain angle.
People seeing the picture were amazed at how much the photograph, taken from inside a shark cage, looked like Batman's arch-nemesis, The Joker.
Love them or hate them, this creature that has survived alongside the dinosaur has a very particular role to play in our eco-system and we would be clever to keep that in mind instead of trying to wipe them off the face of the Earth.
Please fill in your e-mail so we can share with you our top stories!