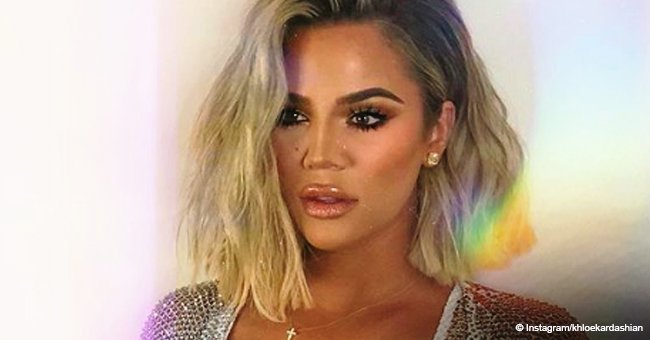 Khloé Kardashian steals hearts with new photo of daughter in yellow turban & cute, colorful onesie

Khloé Kardashian, the TV personality best known for "Keeping up with the Kardashians," took to Instagram to share a photo of her daughter, True, wearing a beautiful turban.
In the post, the baby appeared sitting on a white couch wearing a multicolored ensemble and a bright yellow turban while looking to the side. For the caption, Khloé wrote "I've Got Sunshine On A Cloudy Day. Talking About My Girl," citing the Temptations' hit.
As soon as she uploaded that picture, her followers took to the comment section to share their thoughts.
One of them was Instagram user @sleevedlife_kay, who praised True's cheeks and added that she looked too adorable with her turban. @_.nevaehh_ also wrote "cute little chubby cheeks," followed by heart and heart-in-eyes emoji.
DEFENDING HER DAUGHTER
That photo was uploaded soon after Khloé took to Twitter to defend her daughter from all the people who made remarks about True's skin color.
One of the things she said was that she disliked that people commented on True's skin color but, when she commented back to praise and defend her daughter, the comment gets erased.
MAKING HERSELF CLEAR
"If you have the courage to post your nasty criticism please allow one to defend or comment back," shared Khloé, who shared her thoughts with her nearly 26 million followers.
The celebrity later said that she was upset about the cowardice that people who make negative criticism on her daughter display when they delete the comments.
EDUCATING HER FOLLOWERS
Khloé added that her intention was not to shame her daughter's detractors but to educate them as they might have been brought up in a "different type of household" than Khloé was.
Later, the celebrity said that she was annoyed by the fact that she spoke "calmly and eloquently" when she often is "rash" and "aggressive."
CHEATING RUMOR
Recently, Tristan Thompson, Khloé's boyfriend and the father of True, was involved in another cheating rumor.
Tristan allegedly was on a night out with some of his friends when the group was spotted leaving the club with two women with them.
According to reports, Thompson arrived at the venue with an all-male entourage. However, two hours later, two brunettes exited from the club shortly before Thompson did.
Please fill in your e-mail so we can share with you our top stories!