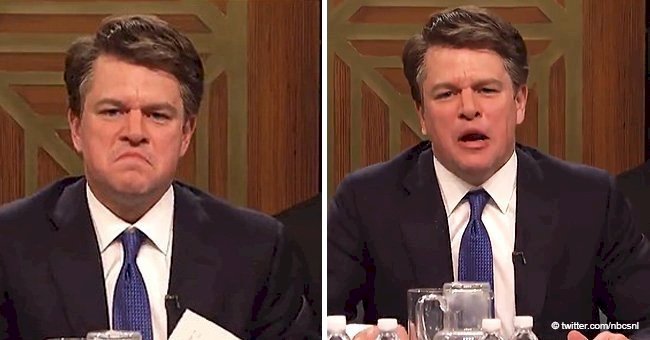 Matt Damon helps 'Saturday Night Live' roast Brett Kavanaugh in hilarious skit
Matt Damon helped "Saturday Night Live" kick off its 44th season on NBC by playing the role of a very angry and beer-obsessed Brett Kavanaugh.
During the skit, Damon was questioned by the show's cast, each portraying members of the Senate Judiciary Committee in a spoof of Thursday's hearing regarding Christine Blasey Ford's sexual assault allegations.
A sneak peek of the premiere was shared on Saturday Night Live's official Twitter account, in which Damon can be seen being asked a question by Cecily Strong.
Follow us on our Twitter account @amomama_usa to learn more.
A PERFECT IMPRESSION
Strong portrayed the role of Diane Feinstein and, during the sketch, she asked Damon's Kavanaugh if he had the 'temperament to be a Supreme Court Justice.'
Damon immediately got angry an said 'I went to Yale! ... I lifted weights!' It was an obvious reference to the real Kavanaugh's statement during the hearing, but it wasn't the only one.
Rachel Dratch, a former "Saturday Night Live" cast member, returned to the show to play Senator Amy Klobuchar, who asked Damon if he was a 'frequent drinker' in his high school years.
BOOZE JOKES EVERYWHERE
Much like the real Supreme Court Justice, Damon replied with a loud 'I like beer!' and included another joke regarding Kavanaugh's drinking obsession by saying 'I'm usually an optimist, I'm a keg is half-full kind of guy.'
Although the show kept on firing jokes at Kavanaugh, mocking his persona, Ford, the accuser, was not impersonated once as a sign of respect considering the serious accusations.
A PILAR OF ENTERTAINMENT
Saturday Night Live is already a household name within the entertainment industry and known for making fun of all the nonsense happening on TV, politics and the world in general.
Alec Baldwin is one of its most famous cast members and his impression of Donald Trump has earned him a few angry tweets from the President, but also an Emmy or Supporting Actor for portraying the role in 2017.
Please fill in your e-mail so we can share with you our top stories!