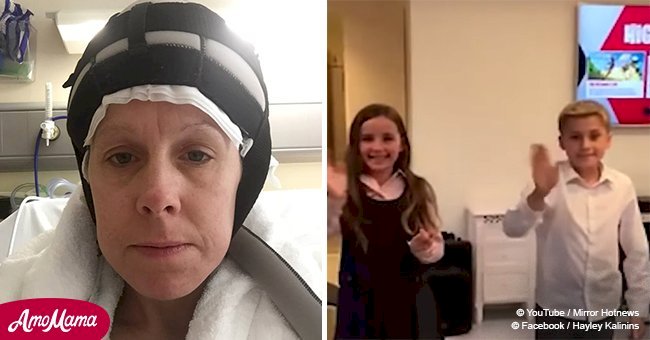 Tearful video of kids waving goodbye to mom just hours before she lost her battle with cancer
A dying mother of four watches her children's heartbreaking farewell video.
Hayley Kalinins, from Borrowash in Derbyshire, was diagnosed with stage 4 incurable breast cancer in 2011 before it spread to her lungs, liver, and brain.
She succumbed to the disease on September 20, 2018, at the age of 37, and her last act was to view a touching video in which her children extolled her to "Keep battling on" and end by chorusing "We love you!"
Hayley's demise came after a long and hard battle that saw her go through 70 rounds of chemotherapy, and extensive surgery in an attempt to eradicate the cancer.
"MY HEART WILL GO ON"
In the video, Hayley's daughter plays "My Heart Will Go On" from the movie "Titanic," the song that expresses Rose's sadness at her beloved's death.
In the moving clip, the children then step in front of the camera together, and one of the boys tells his mom to keep fighting and that they all love her.
A GRIEVING HUSBAND PAID TRIBUTE
Hayley's husband Andy Kalinins, who is the Sheffield Wednesday fitness coach, paid an emotional tribute to his wife who inspired him with a 'zest for life and lived every second to the full.' He promised to stay strong for their four children.
A HEARTBREAKING DIAGNOSIS
The Kalinins welcomed their youngest daughter, Deena-Marie, now 7, in March 2011; and in July of the same year Hayley was diagnosed with breast cancer and given just eight months to live.
A FEROCIOUS WILL TO LIVE
What doctors hadn't counted on with their 8-month prognosis was Hayley's fighting spirit. She started taking chemo treatments every 3 weeks and raised £250,000 for treatment in Germany which would prolong her life.
THE FINAL STAGES AND A SAD GOODBYE
In April 2018, Hayley got worse and tests revealed that she had developed brain tumors. Her husband was by her side in her final moments and shared that her last act had been to watch the video the children had made for her, hold his hand and tell him she loved him.
Hayley is only one of the millions of women worldwide fighting this terrible disease. According to the American Cancer Society, nearly 1.7 million new cases were diagnosed worldwide in 2017.
The good news is that the survival rate is 80 to 90 percent for women with a first-stage diagnosis. The secret, experts agree is catching it early.
Being informed of the possible symptoms and the need for screening are important ways of reducing the risk.
These symptoms include a lump or thickening of the breast and changes to the skin or the nipple. Though many breast lumps are benign, a woman who is concerned about a lump or change should see a doctor immediately.
In a related story, "Facts of Life" actress Mindy Cohn was diagnosed with breast cancer after suffering immense fatigue which had her going to her doctor.
Please fill in your e-mail so we can share with you our top stories!