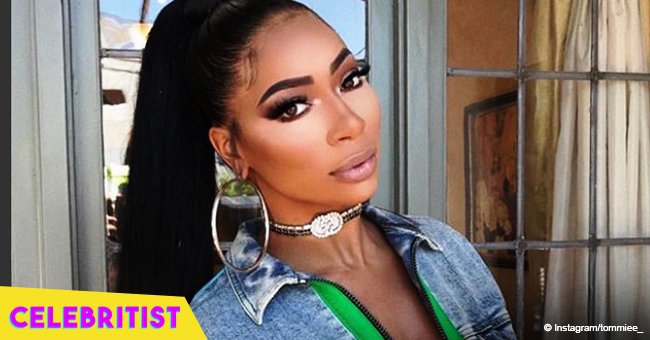 'LHHA' star Tommie Lee slammed for allegedly promoting 'violence' in latest music video

"Love and Hip Hop" star Tommie Lee was slammed by critics recently after she released a new music track that allegedly promotes violence.
The song is called "Cheat On Me", and features the rapper Blac Youngsta. From the title in itself, their choice of words is already pretty questionable. The two recently shared a snippet of their song's music video on Instagram, and fans were not impressed.
In the short film, the two of them acted as a couple and were stuck in a "trap house" surrounded by different women. In one part, Youngsta raps and says: "[Expletive], Cheat on me, [expletive] and I'll kill you".
The reality TV star then adds "Cheat on me, [expletive], and I'll kill you".
The video then shifts to the two of them standing atop a building while pointing guns at each other. At one point, the rapper even aims the gun toward Lee's head.
Disturbed and concerned social media users made sure to let them know how untasteful their song was, telling them it was definitely not something kids should be listening to as they grow up.
"You [expletive] all over this right here. What kind of stupid [expletive] song is this??? Promoting violence. Partners at gun point with each other… Tuhhh, Bravoooo!!!"
"Not good for this generation"
"Why would you want someone that threatens to shoot you, call you a pexpletive], and steal your money if given the first chance to do so? Young people will think this is cool because 2 celebrities made a song about doing it. Please start being a part of the solution not the problem."
"I can't deny her ability but this is NOT the music I wanna promote, listen, download or event think about. Can we women be more positive."
"I am not liking what the song is saying, because young people try and live the videos and rap lyrics today and it promotes violence and dysfunction in relationships. But the beat is nice."
Fans swamped their comment sections for trying to desensitize their listeners by normalizing violence. In the end, their song faced a lot of backlash and has definitely been more than a flop than a hit.
Please fill in your e-mail so we can share with you our top stories!