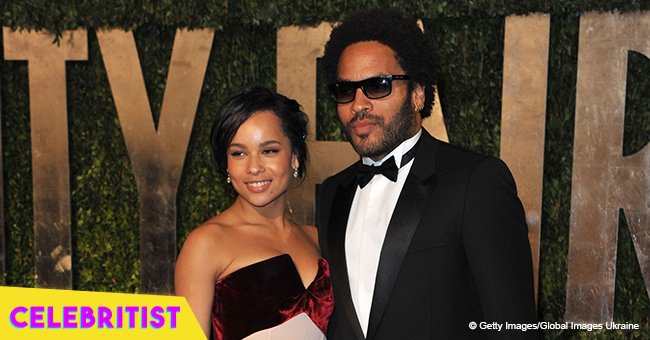 Lenny Kravitz carries his beautiful daughter Zoë in his arms in heartwarming picture
Lenny Kravitz recently just launched "Assemblage", a photo exhibit inspired by Dom Perignon which he headed. Of course, there is no one better to share the opening night with but his lovely daughter, Zoe.
Last Friday night, the 54-year-old performer, who donned a stunning leather su9it, attended the opening of his gallery at the Skylight Modern in New York City. To support him on that night, his 29-year-old daughter Zoe Kravitz made sure to show up to be his plus one.
The true rockstar that he is, Lenny accessorized his leather suit with a pair of oversized sunglasses and a tribal necklace.
Meanwhile, his darling daughter wore her hair in braids, sported a brown maxi-skirt, and a patterned strapless top from Oscar de la Renta. Matching the patterned top, she wore a yellow purse and accessorized with a choker necklace.
During the show, Lenny and Zoe made sure to have some adorable moments with one another, showing the tight-knit relationship that they have. Although she is now 29-years-old, Lenny proves that Zoe will always be his baby, lifting her up and carrying her off her feet while giving her a kiss on the cheek.
The usually mellow Zoe who often shows off a grin couldn't help but smile at the sweet gesture that her father did, making it the most picture-perfect and frame-worthy act of the night.
Although she is extremely close to her dad, Zoe also shares a close relationship with her mom's new husband, Jason Momoa. Just as how supportive she is with Lenny, she shares the same relationship with Jason who has been sharing photos with the 29-year-old on social media.
Recently, she congratulated Zoe on her movie "Fantastic Beasts', which is a film adaptation of one of the "Harry Potter" books.
All in all, it seems all is good in the Momoa-Kravitz households, where they are all open to one another despite everything that has happened in the past.
Please fill in your e-mail so we can share with you our top stories!