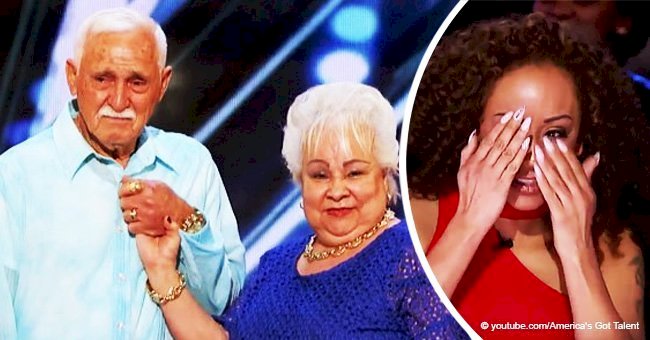 Elderly couple leaves judges with dropped jaws at their raunchy dancing
A couple of elderly Cubans conquered most of the judges of America's Got Talent and shocked the audience on their blind audition with their shameless and youthful spirits.
Known solely by their given names, Cuban-born married couple Celina, 66, and Filiberto, 70, took the popular talent competition by storm when they gave an unexpected performance for their ages, as Yahoo Entertainment reported.
The husband and wife decided to showcase a very particular choreography to the rhythm of Jason Derulo's "Talk Dirty," and while their raunchy moves made one of the judges uncomfortable, they won the favor of the remaining three.
Celina and Filiberto looked like any ordinary old couple when they walked to the stage of AGT, but as soon as the music started playing, everybody in the room was in shock. Read more on our Twitter account @amomama_usa
Their increasingly "dirty" dance the two performed proved to be too much for former Spice Girl Mel B, one of the show's judges, to handle, and she struggled to watch the act until its completion, and even tried to stop them by hitting her red button.
Ignoring her, the determined couple continued with their routine to the delight of the audience, the rest of the judges and the host Tyra Banks. Everybody was dancing along from his or her spots.
"Some things should just be done in private. That should be private stuff. That's private," an offended Mel B said when the number was over, but Simon Cowell came in defense of the couple, accusing Mel B of "ageism."
Celina and Filiberto had already earned their own following way before showing up at AGT. The couple has been performing under the name "Ganas con Canas," which can be translated as "Gray-haired Desire" for some time.
Months before their audition was aired, they had announced their involvement with the talent competition to their followers on their Instagram account.
"I pray I'm going to be that lucky when I get old to find someone to do that with, I really do."
-Heidi Klum, America's Got Talent, June 2018.
"I like things I get surprised by. You surprised me," Cowell told the contestants, showing his weakness for elderly participants of the show once more.
In a 2016's episode of the show, Cowell was likewise touched by a nonagenarian who just as Celina and Filiberto, didn't think that her age was an obstacle to carry on her spicy act.
Dorothy Williams, from Hawaii, had been a burlesque dancer in her twenties but disappointed by not having become "a star" she stopped performing for seventy years until she decided to make her great comeback on AGT.
Williams performed a good old striptease to the music of "Let me entertain you" from the musical "Gypsy," and made everybody fall in love with her.
"I find you fascinating, Dorothy. I do think there is an audience for you. I kind of wanted a longer song. That may be one of my favorite auditions ever!" an enchanted Cowell told Williams following her performance.
Please fill in your e-mail so we can share with you our top stories!