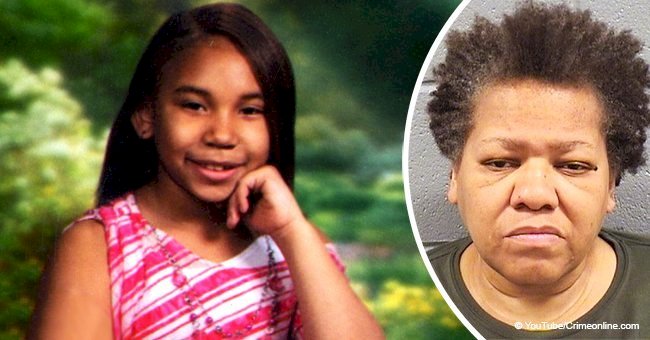 Secret diary of a murdered girl revealed how her grandmother cruelly mocked her all along

This is the sad story of a girl with a big heart and curiosity for life, who was killed by those who had to take care of her and protect her.
Gizzell Ford, nicknamed "Gizzy", was an 8-year-old girl, happy, smart and curious. According to the Chicago Tribune, she loved school, she was in third grade, and she was good at making new friends.
This sweet girl was the winner of a spelling bee and had a diary with rainbow stripes. "I'm going to be a beautiful and intelligent young lady," she wrote in 2013. "People say I'm smart, brave and beautiful."
She also seemed to have a good family support system. Her grandmother was even a member of the advisory board at Armstrong Elementary School, recalls the former director, Demetrius Bunch.
"She always came to school well-groomed and well-nourished," he said. "Her grandmother was always visible at school, she was there every morning." Follow us on Twitter for more @amomama_usa.
THE TRUE FAMILY
A few weeks after school was over, Gizzell was found dead in the Austin apartment filled with her grandmother's trash. She had been beaten and strangled.
Investigators determined that Gizzy had been tortured by Helen Ford, her grandmother. Her father, Andre Ford, who was bedridden, also lived in the apartment with the little girl.
A video that he shot on Helen Ford's cell phone captured some of the abuse: Gizzell was being punished, forced to do squats with a sock in her mouth to keep her from vomiting.
Gizzell's father died in the Cook County jail of an apparent heart attack in August 2014, while awaiting trial for his role in her death. The grandmother was found guilty of murder.
Gizzell had been beaten from head to toe, according to evidence. Prosecutors said the girl was also dying from kidney failure and had been deprived of food and water.
She had been placed in that apartment with Andre Ford after a long custody battle between her father and her mother, Sandra Mercado, 32, who argued that she had already cared for her daughter for six years. But the Fords reported that she was homeless and finally got custody.
DREAMS IN THE JOURNAL
Gizzy chronicled the last days of her life in her diary. There are references to her love for school and jumping rope. But according to extracts revealed in the trial, the spectrum of abuse also appears: "I know that if I am good and do everything they tell me, I will not have to be punished," she wrote.
At the end of Gizzy's life, according to Steve Schmadeke of the Chicago Tribune, who covered the trial, her calligraphy, once neat, had become irregular scribbles.
Despite the nightmare that she lived daily, Gizzy was positive. In her diary, it can be read that she thought she could get rid of punishments if she behaved well and that she hoped to grow up and become a beautiful and intelligent woman.
She updated her diary often. A few days later she said she had failed in her purpose. On July 11, 2013, she wrote: "I hate this life because now I really feel very bad". The next day Gizzy was found dead.
THE SYSTEM FAILED
The diary "corroborates what we suspect," said Martin Dolan, a lawyer representing family members in a wrongful death lawsuit. "There is a sense of fear in that diary that should be analyzed, and it should have been like that, people should have recognized what was happening."
A Chicago Tribune report in 2013 plus trial testimony highlights the ways in which the legal system defrauded Gizzell. She was the subject of a custody dispute involving eight judges from Cook County.
An investigator from the Department of Children and Family Services visited Gizzell's home about a month before her death, the Tribune reported, but did not take action. A child abuse doctor examined the girl but never reported a suspicious lesion that he observed.
Months after Gizzell's death, Christy Gutowski of the Chicago Tribune examined the girl's life and the safety net that could not save her.
"Gizzell was one of the people I knew would make a difference in the world ... maybe as a teacher or writer," said Kathryn Wanicek, who taught the girl in first and second grade.
Gizzy had written this note:
"Dear Mrs. Wanicek, I love you, I love reading, too! Love, Gizzy Ford."
This terrible story reminds us of another case where the medical examiner could not contain the crying during her testimony at the trial of a registered sex offender.
Dr. Valerie Rao was the professional who performed the autopsy of Cherish Perrywinkle, an 8-year-old, after she was abducted, brutally abused and killed by a 61-year-old man, at the beginning of 2018.
Please fill in your e-mail so we can share with you our top stories!