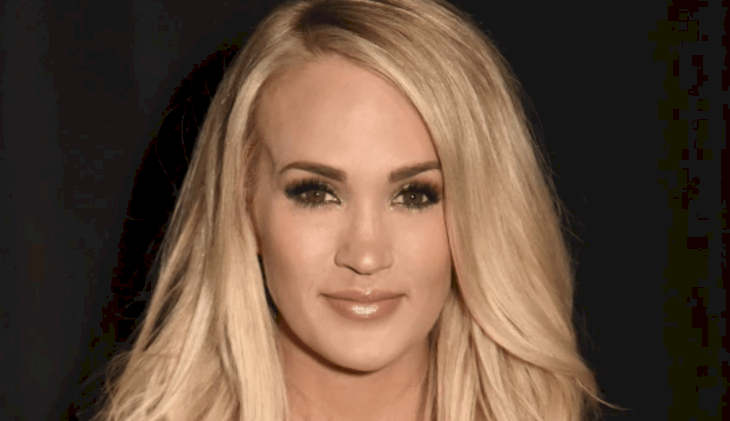 Carrie Underwood

Who is Carrie Underwood?
Carrie Marie Underwood is a singer who found fame in 2005 when she won season 4 of American Idol. Her first single, "Inside Your Heaven," broke records when it became the first country song in history to debut and immediately hit number one on the US Billboard Hot 100. Her first album, Some Hearts, released in 2005. With the songs "Jesus, Take the Wheel" and "Before He Cheats" becoming hits, the entire album did well. The album became the best-selling album from a solo female debut in country music history. Not to mention, sold out the fastest from any debut album in Nielsen SoundScan history as well as becoming the most sold country album of the last 15 years. The record was so successful that Carrie Underwood won three Grammy Awards, including Best New Artist.
The early life of Carrie Underwood: The three-time Grammy award winner, Carrie Underwood was born on March 10, 1983, in Muskogee, Oklahoma. Her parents, Carole (Shatswell) and Steve Underwood, had two older daughters, Shanna and Stephanie. Carrie Underwood grew up in a rural town called Checotah on her parents' farm.
During her childhood, Carrie Underwood took part in the Robbins Memorial Talent Show and even joined her local church choir. When she got older, Carrie Underwood began singing at local events in Checotah.
When Carrie Underwood was 14 years old, a local admirer helped send her to Nashville where she auditioned for Capitol Records. In 1996, Capitol Records were getting ready to sign Carrie Underwood, but unfortunately, due to a company management change, the plans were canceled.
Carrie Underwood attended Checotah High School and was a member of the Honor Society. She was also a cheerleader and played basketball and softball. Carrie Underwood graduated from Checotah High School in 2001 as salutatorian.
She chose not to follow her dreams of singing and instead went to Northeastern State University in Tahlequah, Oklahoma. Carrie Underwood graduated, in 2006, magna cum laude with a bachelor's degree in mass communication and sub-majored in journalism.
Career:
Carrie Underwood's singing career was majorly boosted when she won the 2005 American Idol. She used the fame boost to start her career as a multi-media superstar. By November 15, 2005, Carrie Underwood released her debut album, Some Hearts. It sold 315,000 copies and debuted at No. 1 on the Billboard Top Country Albums and No. 2 on the Billboard 200.
The first week that Some Hearts was available for purchase was so successful; the album became the biggest debut album from any country artist since SoundScan system started in 1991. Overall, Some Hearts was named the best-selling album of 2006 in America. Some Hearts was also the best-selling country album of both 2006 and 2007. That meant that Carrie Underwood not only earned back-to-back Top Country Album honors but she was also the first female artist in Billboard history to do so. The album continued to break records.
Eventually earning four Grammy award nominations in 2007. Carrie Underwood walked away from the Grammy's with her first two Grammy Awards: Best New Artist and Best Female Country Vocal Performance for the song, "Jesus Take The Wheel." In the history of the Grammy's, Carrie Underwood is only the second country artist ever to win the award for Best New Artist. Then in 2008, at the 50th Grammy Awards, Carrie Underwood was nominated for another two Grammys and won Best Female Country Vocal Performance.
By December 2006 Underwood was performing on shows like The Oprah Winfrey Show and singing alongside industry superstars like Kenny Rogers. Carrie Underwood also went on tour in Iraq in December 2006.
Carrie Underwood's second album, Carnival Ride, was released in October 2007. Carnival Ride sold over 527,000 copies in its first-week thus it debuted at No. 1 on the Billboard 200 and Top Country Albums. Carnival Ride achieved double platinum status only two months after its release in December. The album now stands certified as four times Multi-Platinum by the RIAA. Carrie Underwood and Keith Urban launched a joint tour in January 2008. The final date of the tour was December 14, 2008.
She also went on to win an enormous number of awards for the album including her first international award, "Female Vocalist of the Year" at the European Country Music Association Awards in 2008.
Her third studio album, Play On, was released in November 2009. And like the albums before it, this one broke many records and finished the year as the number two best selling release from a female artist, behind only Susan Boyle's I Dreamed a Dream. The Play On Tour started in Reading, Pensylvania on March 11, 2010. The tour then went to Portland, Oregon, and finally, Detroit where it ended on January 1, 2011, During the tour, in October 2010, Carrie Underwood sold out at the Hollywood Bowl.
In 2009, Carrie Underwood was nominated for six Academy of Country Music Awards and won Entertainer of the Year. Carrie Underwood is the first woman in history to win the award twice.
On February 4, 2012, Carrie Underwood and Steven Tyler recorded Crossroads during the Pepsi Super Bowl Fan Jam of Super Bowl XLVI at the Pepsi Coliseum. The episode turned out to be the highest rated episode in seven years.
Carrie Underwood and Tony Bennett performed their duet "It Had to Be You" at the 54th Annual Grammy Awards as well as at the season two premiere of Blue Bloods.
Carrie Underwood's fourth album was released on May 1, 2012. "Blown Away" debuted at No. 1 on the Billboard 200, the Country Albums Chart and the Digital Albums chart in the US. As with her other albums, this one was a massive hit. In May 2012, Underwood announced her international arena tour called the Blown Away Tour. The tour was an enormous success.
In the spring of 2015, Carrie Underwood returned to the studio to finish her fifth album. The fifth album titled, Storyteller was scheduled to be released on October 23, 2015. Storyteller hit No. 2 on the Billboard 200 when it was released. The success of all of five of her albums made Carrie Underwood the only country artist to have their first five albums hit the top of the Billboard 200. Once again, Carrie Underwood was breaking records with her album releases.
In September 2018, Carrie Underwood her sixth studio album, Cry Pretty. And in November, Carrie Underwood announced that the Cry Pretty Tour 360 would start in May 2019.
Personal life:
Carrie Underwood met Mike Fisher in 2008 at one of her concerts. They started dating pretty quickly after that, and by December 2009 the couple was engaged to be married. Carrie Underwood and Mike Fisher tied the knot on July 10, 2010, at The Ritz-Carlton Lodge. They had about 250 people at their wedding. They have a son together, and in August 2018, Carrie Underwood and Mike Fisher announced that they are expecting their second child.
Carrie Underwood is a devout Christian and an animal lover. She has been a vegan since the age of thirteen. In 2007, Carrie Underwood was voted "World's Sexiest Vegetarian" by PETA for the second time. She has also made her voice heard on animal issues including speaking out against the "Ag Gag Bill" in Tennessee as well.
"Sometimes a girl's gotta have some chocolate!" ~ Carrie Underwood
Trivia
Won American Idol (2002) [2005].
Amazingly, has no formal training in voice or singing.
Started singing in church at the age of three.
Her victory at the 2005 American Idol competition has been considered the show's first upset. Many pundits thought she would be bested by runner-up Bo Bice.
She is a vegetarian. Made this known on an episode of American Idol (2002), when she wore a "V is for Vegetarian" T-shirt.
Graduated from Checotah High School as salutatorian (2001)
Has 2 older sisters, Shanna & Stephanie
?hl=en
Please fill in your e-mail so we can share with you our top stories!