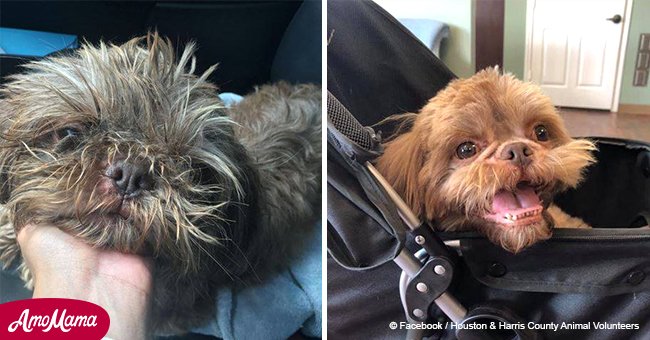 Owner tells shelter to euthanize his dog because he is too old
A 20-year-old dog was dropped off at the Harris County Animal Shelter by his owner, who made a difficult request of euthanizing the suffering animal.
According to an update shared by the shelter on its Facebook page, the dog named Radar has dropped off at the shelter earlier this October and found it to be severely suffering.
The workers at the shelter also found the dog to be terrified, confused and wondering where everything and everyone he knew suddenly disappeared.
'Sometimes animals come in and you're just at a loss for words. This is one of those times,' the video was captioned. 'This little Ewok-looking teddy bear is Radar. It's pretty easy to see that Radar is terrified, confused and wondering where anything familiar went.'
Follow us on Twitter to learn more.
The caption also informed that Radar was left at the shelter because he was vomiting and had diarrhea and its owner could not take care of him. There was no telling how long the dog would live.
The Facebook post further detailed, 'We're going to be really honest. We don't know if we can save him. He hasn't been seen by a vet and maybe they'll decide that euthanasia is the best choice to end his suffering.'
The shelter then called for any contributor who would like to make donations so that the rescue can tag the dog and 'let him pass surrounded by dignity and love.' The post further stressed the fact that the dog deserved a 'peaceful passing.'
Radar's story posted on Facebook went viral and reached a volunteer from a Houston-based animal shelter, Animal Justice League.
The team decided that they could not allow the senior dog to die alone and scared at the shelter. They initiated a rescue and took Radar to a local vet.
Surprisingly, it was discovered that the dog's previous owners lied about his age. Radar was considered to be five to eight years younger than what the owner claimed in the paperwork.
The vet also discovered that Radar did not have an easy life as hinted by his matted fur, overgrown nails, malnourished body, and protruding bones.
Fortunately, the rescuers were finally able to find a home for the suffering dog where his health improved significantly after taking the prescribed pain medication and antibiotics.
Earlier this year, yet another elderly dog was abandoned at the shelter in a similarly heartless manner after claiming that he was too "stupid" for the owners to handle.
The 18-year-old dog, Figgy, was left at the shelter after started having some accidents in his home and the family could no longer provide him enough support.
Please fill in your e-mail so we can share with you our top stories!