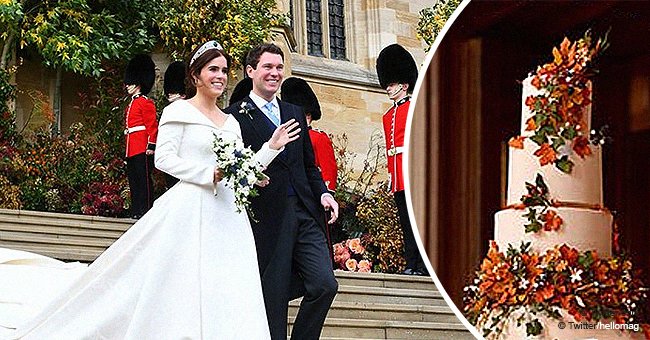 Princess Eugenie and Jack Brooksbank's wedding cake is even more stunning than we imagined
This is one of the most spectacular and unusual Royal wedding cakes ever.
Princess Eugenie and Jack Brooksbank's delightful fall wedding is being celebrated with a glorious creation by renown British wedding cake designer Sophie Cabot.
Prince Andrew's youngest daughter first came into contact with Cabot's work through her father's Pitch@Palace programme who employed Sophie to supply decorated bespoke biscuits for their events.
The lovely confection was shared with the world on the Duke of York's Twitter/@TheDukeOfYork on the Princess' wedding day, October 12, 2018.
"The couple were very relaxed, very comfortable. I got the feeling the cake was something they were very excited about."
Sophie Cabot, Twitter/@TheDukeOfYork, October 12, 2018.
A MEETING WITH THE ROYAL BRIDE AND HER GROOM TO CHOOSE A CAKE
The entire process started back at the beginning of the summer of 2018 when Cabot had a meeting with Princess Eugenie and Brooksbank.
The couple tasted various types of cakes and discussed the theme of the wedding, ands what type of decorations they wanted for the cake.
THE SWEET TASTE OF TRUE LOVE
The couple decided on an unusual combination of red velvet and chocolate cake - a warm rich confection which they felt fitted in beautifully with their Autumn wedding theme.
A DELICIOUS COMBINATION OF CHOCOLATE; RED VELVET AND BUTTERCREAM
The cake as made with five tiers, each made up of three layers of red velvet and two of chocolate sponge cake covered with buttercream. The confection was baked by Cabot at the Buckingham Palace kitchens on October 10, 218, and was made with 400 eggs, 53 packs of unsalted butter, 15 kilograms of organic self-raising flour, and 20 kilos of sugar.
DECORATED WITH A WINDFALL OF DELICATE AUTUMN LEAVES
Cabot started working on the cake decorations in July, handcrafting and painting hundreds of delicate fall leaves out of spun sugar and the end result is a breathtaking work of art.
THE ORIGINS OF THE TRADITIONAL BRITISH WEDDING CAKE
The Romans celebrated their weddings with a barley cake that was broken over the bride's head as a symbol of prosperity and future happiness, but today's wedding cake came into existence in Medieval England.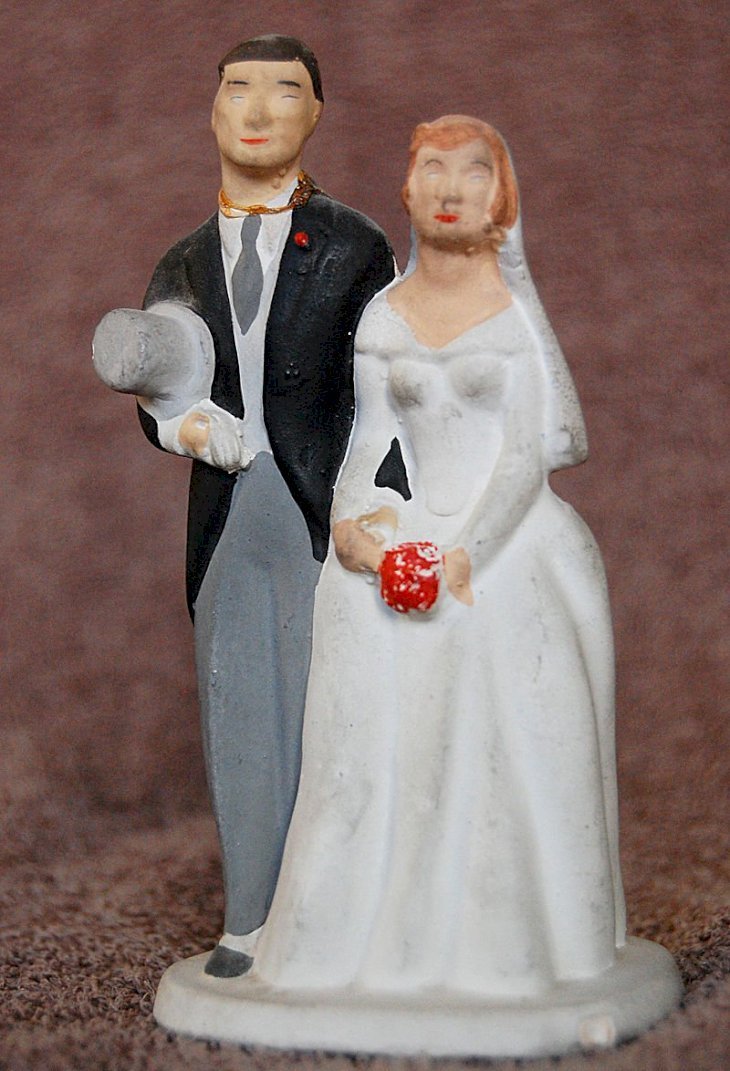 Source: Wikipedia
KISSING OVER SWEET CAKES
In Medieval England, sweet cakes were stacked as high as possible for the bride and groom to kiss over, some towers reaching dizzying heights. If the couple kissed without toppling the tower, they were guaranteed a prosperous life together.
In 18th and 19th, England and early America wedding cakes were traditionally fruitcakes, covered with marzipan and decorated with exorbitantly expensive white icing sugar.
The larger and fancier the cake, the more expensive it was, and wedding cakes were seen as a representation of the family's wealth and social status.
Today's cakes have evolved into veritable works of art, with professionals dedicated exclusively to the art of creating the perfect wedding cake for each couple - for a hefty price, of course.
Please fill in your e-mail so we can share with you our top stories!