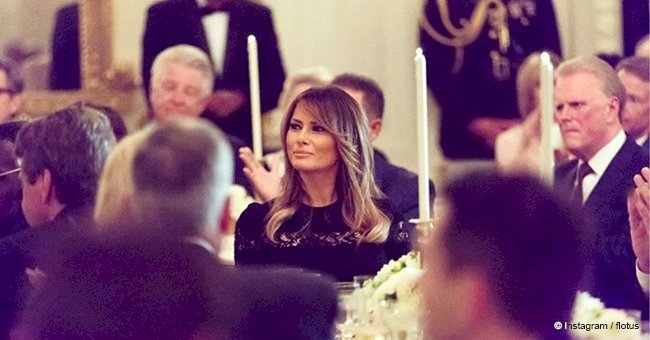 Melania Trump predicted she would be First Lady 'like Jackie Kennedy' back in 1999
Almost two decades before Melania Trump became First Lady of the United States of America she predicted her position and referred to herself as traditional, much like Jackie Kennedy.
On December 3, 1999, former Slovenian supermodel, then Melania Knauss, 26 had an interview with ABC News correspondent Don Dahler which has recently resurfaced because of the uncanny predictions and relevance to her current situation.
She had just finished a photo shoot for a North Shore Animal League America campaign in New York City. She had met Donald Trump the previous year at New York Fashion Week and the pair was dating at the time.
Read more on our Twitter account @amomama_usa.
Following accusations that she was dating Donald Trump for the money she replied:
"You can't talk with or hug beautiful things, They don't know me and he is very kind and charming."
Kahler asked her whether she was in love with Donald Trump and Melania said that she is and would support and stand by him. Melania was cautious about speaking openly about her desires to wed Trump because she had been misquoted in the past and had a distrust in the media and said:
"Media can be very tricky sometimes. You need to be very careful."
The logical follow-up question by Dahler enquired whether she would accept Donald Trump's marriage proposal if asked but she declined to comment and just smiled politely.
She was more forthcoming when asked what type of president he would make after stating that she believed he would run for the presidency one day and said:
"He would be a great president. He is very smart and knows how to do business. He would be a great leader."
When asked if she could see herself being the first lady she answered:
"Yes, I would be very traditional, like Jackie Kennedy and Betty Ford and would like to work with the Make-A-Wish Foundation."
Melania Knauss and Donald Trump got married in January 2005 at Mar-a-Lago, Trump's beachfront estate in Palm Beach, Florida.
She had largely remained behind the scenes at the White House during her first year and a half living there but have since made more of public appearance with a recent solo tour of Africa to visit humanitarian programs receiving American aid.
A CNN poll conducted during her trip to Africa showed a rise in favorability rating now stands at 54%, up three points from June, with her unfavorable ranking remaining at 30%. Her lowest numbers since the presidential election occurred in January 2017 where she stood at a 36% favorable rating, with 23% having no opinion of her as opposed to just 14% according to the recent poll.
Among woman, Melania Trump has a lower favorable rating than with men, with 48% of the woman finding her favorable where with men her rating is higher at 59%.
She also sat down with Tom Llamas from ABC News for more on her Africa trip and the #MeToo movement where he questioned her on where she stands with women and said:
"I do stand with women, but we need to show the evidence. You cannot just say to somebody, I was, you know, sexually assaulted, or you did that to me, because sometimes the media goes too far, and the way they portray some stories, it's not correct, it's not right."
Llamas further touched on the subject asking her thoughts on men who got treated unfairly after publicly being accused of sexual misconduct upon which she reacted that hard evidence is needed before allegations can be made.
It seems that Melania's predictions during her 1999 interview with Don Dahler came true as she has since become the First Lady of the United States of America and surely has at least one thing in common with Jackie Kennedy - both known for standing by their husbands during rumors of extramarital affairs.
Please fill in your e-mail so we can share with you our top stories!