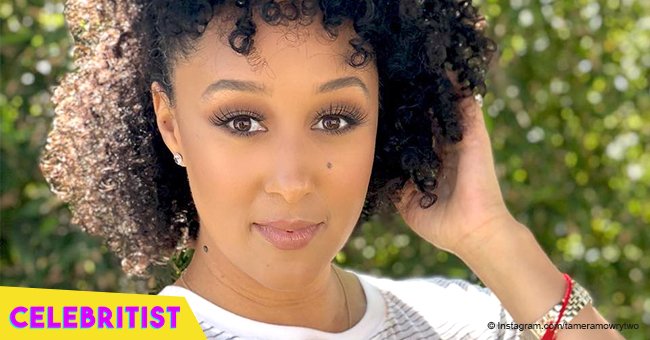 Tamera Mowry breaks down in tears after saying she was bullied for 'being kind'

Tamera Mowry gets emotional speaking about her bullied past on "The Real." She reveals bullies questioning her kindness which led to her feelings of self-doubt.
It was an emotional Tuesday for Tamera Mowry on "The Real." During its "Girl Chat" segment, she opened up about being bullied as a child and how her goodness was viewed as something else.
Tamera has been very open in the past about her experiences being bullied when she was young. In 2016, also in an episode of "The Real," she recalled being referred to as the "ugly and goofy twin."
Tamera is the identical sister of Tia Mowry. They gained success as twins in their youth in the television show, "Sister, Sister." Tamera said, she learned to carry the notion that she was the inferior twin growing up because of a letter sent to her by a fan suggesting that.
On Tuesday, Tamera discussed another reason kids bullied her which led to her developing feelings of self-doubt. She said her "goodness" was often questioned. They assumed she was doing it to feel superior over others.
"For me, I was a very wise, kind of like an old soul ever since I was like eight. I received Christ in my life at eight... I was very by the book and I was a kind person, and I am a kind person, now. Growing up, I was picked on a lot, you guys. People would say, 'Oh, you think you're better than me?'"
Tamera teared up explaining her past. When asked by her co-hosts what she tells herself when feelings of self-doubt re-emerge, she replied,
"Accept your differences."
Even today, Tamera has had her fair share of bullying, if you may call people calling her husband a racist as that. She would often defend Adam Housley who many assumed was racist due to his affiliation with Fox News. However, Tamera insists her husband is far from being one. The half-black host flatly told this to her audience in "The Real" last month.
"There are some people who think that my husband is racist because he worked for a certain channel. I'm gonna look in that camera right there and let everybody know my husband is not a racist."
People may put Tamera down but she always manages to defend herself and come out stronger. Kudos to her
Please fill in your e-mail so we can share with you our top stories!