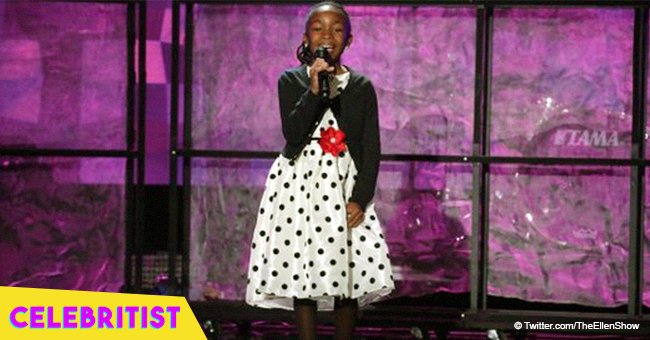 10-year-old girl wows Ellen audience with her rendition of The Jackson 5's 'Who's Lovin' You'

A 10-year-old girl stunned Ellen and the rest of her audience with her own rendition of The Jackson 5's "Who's Lovin' You", nailing it. This comes after a video of her singing the song went viral on Twitter, and Ellen DeGeneres invited her to the show.
Bri'Anna Harper, 10, is not afraid to show off her talent, and it has gotten her so far. Her fame started when a family friend posted a video of her on Twitter singing the Jackson 5's "Who's Loving You", and it went viral. Since then, she now has a much larger following since performing on "The Ellen Show".
Her video has garnered more than 2.7 million views since it was uploaded, and Ellen just knew that she had to invite Bri'Anna on the show as one of the youngest performers to grace her stage. Of course, the 10-year-old did not disappoint. The renowned TV host also made sure to meet the proud parents of the little girl, E'Boni and Fabian Harper, hoping to get a little bit more information about their story.
During their interview, it was revealed that Bri'Anna has had a knack for singing since she was much younger, and now she enjoys singing with her younger 6-year-old sister.
"I like to listen to 80s, 90s and 60s greatest hits. My mom told me when I was a little baby, I wouldn't go to sleep until I heard Aretha's [Franklin] greatest hits."
However, blessings just kept falling on Harper's lap on that day, as after she performed and got the worldwide recognition she deserves through the show, she and her parents were gifted with a whopping $10,000 and a new 2019 Honda Pilot by Shutterfly. In true Ellen fashion, she even gifted them with a giant magnet that said "Proud parents of a daughter who sang on The Ellen DeGeneres Show" for when they drive it around town.
In disbelief, E'boni Harper ended with:
"We are extremely proud of Bri'Anna. This is amazing and we're just happy to be here."
Please fill in your e-mail so we can share with you our top stories!